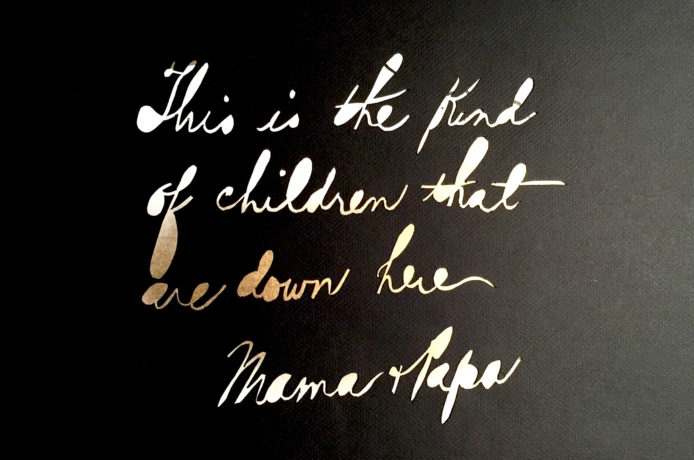 Exhibitions
ERIKA RANEE: THESE KIND
Erika Ranee
1203B Forrest Ave (between Gartland and Forrest) East Nashville, 37206

Dadu presents:"These Kind" Drawings by Erika Ranee
September 10, 2016
Open for the Art Stumble, 6-10pm
and by Appointment September 13-17
Dadu is happy to present small, intimate paper works from Erika Ranee. The drawings are rooted in text and shape. At some point, Erika began to collect flea market postcards, in which many times the text and image/place was incongruent. In the drawings, the use of text is simplified to a curves, a rhythm and gesture. The language reveals presumptions and stereotypes of race and geography-- short note scrawled on the back of a postcard belies the inherent sociopolitical charge. "These Kind" is a powerful example of and stand-in for language that sets apart and objectifies.
From Dadu: As a painter, I so connect with Erika's background of going from figuration to abstraction, yet with a consistent narrative mind for the work. After having met her while both at Vermont Studio Center, I was hooked by her bold work and have followed it since. It is a perfect body of work, full-circle referencing on-foot mail carriers and home for Dadu, a pop-up gallery in my backyard. (Jodi Hays)
Ranee received her BA from Wesleyan University in 1987, her BFA from the School of Visual Arts in 1991, and her MFA from the University of California, Berkeley, in 1993. She was a 2009-10 Artist-in-Residence at the Abrons Art Center, and was awarded a studio grant from the Marie Walsh Sharpe Foundation in 2011-12. She was included in group exhibitions recently at BravinLee Programs, New York, and The Parlour, Bushwick, New York. A solo exhibition of her paintings, entitled Gasoline Rainbows, was at LMAKgallery, June 5, 2016.
Additional info: http://hyperallergic.com/302065/beer-with-a-painter-erika-ranee/
For questions contact jodihays at gmail or East Side Art Stumble
Detached Accessory Dwelling Unit (DADU), the city code name for tiny homes on one's property, hosts quarterly exhibitions in conjunction with the East Side Art Stumble and is co-run by Jodi Hays and Donna Woodley.