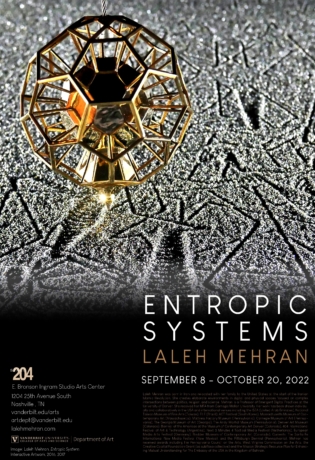 Exhibitions
LALEH MEHRAN: ENTROPIC SYSTEMS
Laleh Mehran
Space 204 and the Vanderbilt, Arts, and the Middle East: Building Bridges to the Global and the Local curatorial program are proud to present Entropic Systems, a solo exhibition from Laleh Mehran. The exhibition will be on view September 8 through October 20, 2022 in Space 204 will feature an immersive video/audio experience with an engineered drawing piece activated by the movement of gallery visitors.
https://lalehmehran.com/Entrop...
Laleh Mehran was born in Iran and relocated with her family to the United States at the start of the Iranian Islamic Revolution. She creates elaborate environments in digital and physical spaces focused on complex intersections between politics, religion, and science. Mehran is a Professor of Emergent Digital Practices at the University of Denver. She received her MFA from Carnegie Mellon University. Her work has been shown individually and collaboratively in the USA and international venues including the ISEA (United Arab Emirates), National Taiwan Museum of Fine Arts (Taiwan), FILE (Brazil), ACT Festival (South Korea), Massachusetts Museum of Contemporary Art (Massachusetts), Mattress Factory Museum (Pennsylvania), Carnegie Museum of Art (Pennsylvania), The Georgia Museum of Art (Georgia), The Andy Warhol Museum (Pennsylvania), Denver Art Museum (Colorado), Biennial of the Americas at the Museum of Contemporary Art Denver (Colorado), 404 International Festival of Art & Technology (Argentina), Next 5 Minutes 4 Tactical Media Festival (Netherlands), European Media Arts Festival (Germany), Boulder Museum of Contemporary Art (Colorado), Currents: The Santa Fe International New Media Festival (New Mexico), and the Pittsburgh Biennial (Pennsylvania). Mehran has received awards including the Pennsylvania Council on the Arts, West Virginia Commission on the Arts, the Creative Capital Foundation Grant (as subRosa collective) and the Mission Strategic Resource Plan for Enhancing Mutual Understanding for The Embassy of the USA in the Kingdom of Bahrain.
Entropic Systems will be on view in Space 204, the contemporary gallery space located on the second floor of the E. Bronson Ingram Studio Arts Center, Vanderbilt University. This exhibition is part of the Vanderbilt, Arts, and the Middle East: Building Bridges to the Global and the Local curatorial program, organized by the exhibition committee: Raheleh Filsoofi, Jonathan Rattner, and Qais Assali.