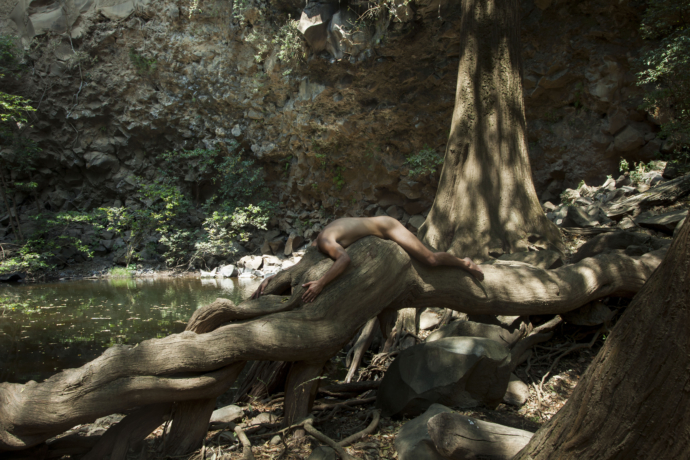 Exhibitions
EMILIO ROJAS: INSTRUCTIONS FOR BECOMING
Emilio Rojas
AS A RESULT OF CLOSURES DUE TO COVID-19, PLEASE FOLLOW GALLERY WEBSITE AND SOCIAL MEDIA PLATFORMS FOR SCHEDULING UPDATES AND VIRTUAL EXHIBITION CONTENT.
---
Instructions for Becoming: Emilio Rojas
Look, The trees are turning their bodies into pillars of light.

Fraught with utopian error, men separated themselves from nature during the enlightenment, and the error accelerated during the industrial revolution. Instructions for becoming is a proposition to use our bodies as tools to become part of nature once again. It is a way to learn of resistance from the flow of a waterfall, or resilience from the branch of a tree.
As Professor in the Department of Theatre Arts and Performance Studies at Brown University Rebecca Schneider writes, "History, which is to say memory, courses along in curves and folds. It takes a repercussive wave form, or tendrilous branch form, or irrupts in tuberous, rhizomatic explosions of call and response and response become call again…It is intra-action that finds its rhythms among animate and inanimate alike, rendering any definitive direction that would delimit a form and flow of time (such as forward and linear) impossible. Consider Emilio Rojas's Instructions for Becoming in this vein. Between human body and tree, the weight of a limb might bend to the weight of a limb without distinction as to which limb bends first, which second, or where one limb begins and another ends. Human and non-human come undone in each other. As in Laura Aguilar's nature work, in this series, Rojas's intimate and queer laminations place precise jointure in question. Which first, which second, which human, which non are in limbo."

For this exhibition, Rojas presents a site-specific iteration of this ongoing performance work at COOP, performing throughout Middle Tennessee's parks and nature reserves.
---
About the Artist:
Emilio Rojas is a multidisciplinary artist working primarily with the body in performance, using video, photography, installation, public interventions and sculpture. As a queer latinx immigrant with indigenous heritage, it is essential to his practice to uncover, investigate, and make visible and audible undervalued or disparaged sites of knowledge. He utilizes his body in a political and critical way, as an instrument to unearth removed traumas, embodied forms of decolonization, migration and poetics of space. Besides his artistic practice, he is also a translator, community activist, yoga teacher, and anti-oppression facilitator with queer, migrant and refugee youth. His work has been exhibited in exhibitions and festivals in the US, Mexico, Canada, Japan, Austria, England, Greece, France, Germany, Italy, Spain, Holland, Colombia, and Australia. Rojas is currently a Visiting Artist/Scholar in Residency in the Theater and Performance Department at Bard College in New York. He holds an MFA in Performance from The School of Art Institute in Chicago and a BFA in Film from Emily Carr University.