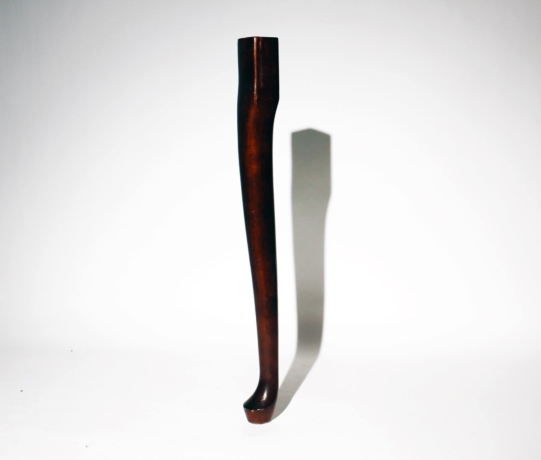 Exhibitions
ELLEN DEMPSEY: LAST LEG
Ellen Dempsey
COOP Gallery is pleased to present Last Leg, an exhibition by artist Ellen Dempsey.
Something on its last leg is in such bad condition it soon will not be able to work as it should. Last Leg is an installation of dozens of collected, found, and reclaimed wooden table legs. Taken from a variety of tables, the amputated entities will be balanced throughout the gallery and tested on their durability to remain so for the duration of the show.
Through the lens of discarded domestic debris and everyday routines, Dempsey investigates the politics of the home. She plays with our familiar/strange relationship to the everyday by creating sculptural assemblages from common place cast-offs that challenge the neutrality of the spaces we occupy.
---
More about the artist:
Dempsey was born and raised in Nashville, TN. She studied Sculpture and Printmaking at Middle Tennessee State University and received her MFA from the University of Memphis in 2018. She was awarded the International Sculpture Center's Outstanding Student Achievement in Contemporary Sculpture Award and her work was featured in Sculpture magazine. Dempsey works and resides in Florence, AL.
More about COOP:
COOP is a curatorial collective made up of artists, curators, thinkers and professors who are committed to expanding Nashville's dialogue with contemporary art by presenting challenging new or under-represented artists/artworks to our community. COOP is committed to exhibiting art of diverse media and content, with a goal to provide an alternative venue for artists free from the constraints of the retail market. COOP seeks to initiate a discourse between Nashville and art scenes across the country by inviting artists to show, develop projects and interact with the Nashville community. Website: coopgallery.org