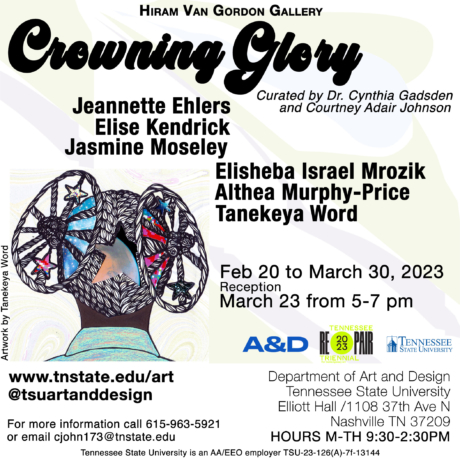 Exhibitions
ELISHEBA ISRAEL MROZIK + JASMINE MOSELEY + ELISE KENDRICK: ​​CROWNING GLORY
Elisheba Israel Mrozik, Jasmine Moseley, Elise Kendrick
Crowning Glory explores black hair through the powerful and playful expressions of six women artists of the African diaspora. The strands that grow out of and adorn the heads of black women are the central nucleus of this exhibition. As artist Elisheba Israel Mrozik counsels, the black woman is "the mother of humanity–that from which we all came." Using these words as a starting point, Crowning Glory honors black women, her hair as crown, and the style(s) that she chooses to represent herself–be it virgin, pressed, permed, shaved, dyed, braided, loced, or bejeweled hair.
Jasmine Moseley's soft pastels create an intimate look at the braids and other hairstyles we see daily. Her work asks viewers to pause and recognize the allure of the everyday woman-girl glow. The golden halos she adds make these figures appear saintly and wholly. Tanekeya Word, founder of Black Women Print, showcases two series–tender: a sisterhood anthem and Supernova study. Both are playful, yet powerful. tender: a sisterhood anthem acts as a visual song of praise, a communal harmony of sisters caring for themselves and one another, and of the collective habits of being in relationship to the comb. The ongoing study re-imagines 100 combs. Supernova study renders a traditional African Fulani tribe hairstyle from a Afrofuturistic perspective, pulling the whole galaxy into the form. Mrozik's large scale sculptural hair bonnet turns the ordinary and insignificant into the monumental and valuable. Through her work viewers encounter identity, women, community, and empowerment. Her paintings, installations, and public works focus on individual and community building and engagement.
Elise Kendrick evokes nostalgia through images of Black Magic and hot combs. Her linocut prints focus on hair, race, and culture and are printed on a multitude of surfaces, creating new levels of viewing and avenues of deeper understanding. The lithographic work of Althea Murphy-Price examines the relationship between beauty and female identity, women, and culture. From this perspective, she showcases topics of real and false decoration through the lens of a beauty world that is fanciful, with surfaces that are smooth, shiny, and devoid of irregularity. Her colors are bright and illuminated by stark white light that utilize nylon-based hair fiber and high gloss ink in the printing process. Jeannette Ehlers' We're Magic. We're Real (These Walls) was an Engine for Art, Democracy and Justice (EADJ) sponsored live performance and braiding circle. The performance was presented in Cravath Hall at Fisk University in November 2022. The braids, which were created by the community and appear through the exhibition, offer a means of continuing the conversation that uses hair as an important marker of identity across communities of African descent–a simple but powerful gesture that illustrates the bond, the braiding, and togetherness.
Crowning Glory offers multiple layers of meaning, memory, and storytelling about black women and their experiences with their hair. While on the surface the show may appear to simply highlight hair and styling techniques, in truth black hair has carried the burden of societal ideals concerning beauty and power. Crowning Glory celebrates, elevates, and honors the joy of black women and their crowns.