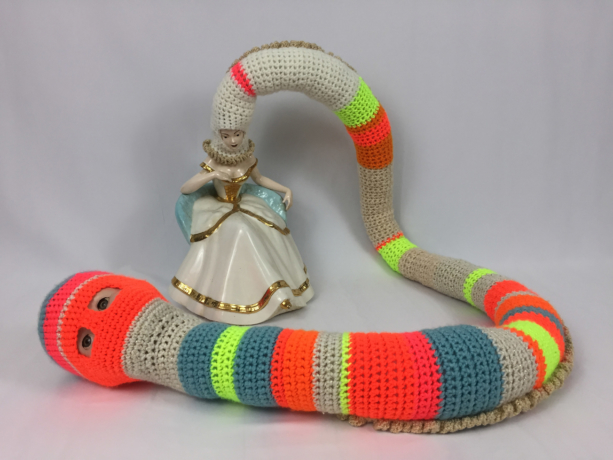 Exhibitions
ELAINE BRADFORD: "SO ALL OF THIS IS MY FAULT?"
Elaine Bradford
Elaine Bradford learned to crochet from her grandmother. Crochet brings to mind hours of labor, societal histories, and concepts of comfort and warmth. She finds solace, both for personally, and projected onto the objects she covers through the slow repetitive process. The act of crocheting cannot be separated from her memories of personal history.
Bradford is a collector; mining thrift and antique stores to find discarded pieces of people's lives. The collectibles, which viewers might find on a shelf in their house, have been transformed. The found family photos have been repurposed. The pieces in this exhibition are representations of relationships. The extensions of crochet and embroidery represent hopes, thoughts and fears that can bind people together, or tear them apart. These fibers are literal portrayals of being wrapped up in another person, and the distance or closeness that can be created between one another. There is a lot about longing and unrequited love. She takes strangers discarded objects, connecting them with crochet, and creating personal portraits.
Elaine Bradford lives and works in Houston, TX. She holds an MFA from the California Institute of the Arts (2003) and a BFA from the University of Texas at Austin (2000). Her work has been included in shows at Hyde Park Art Center in Chicago, IL; Jenkins Johnson Gallery, New York, NY; Handmade in America Gallery in Asheville, NC; and Centre Culturel Aragon in Oyonnax, France. She is a founding member BOX 13 ArtSpace, an innovative artist run studio and gallery space in Houston.
For more information, visit her website elainebradford.com
"So all of this is my fault?" opens on October 19, 2017 and closes on December 7, 2017. An opening reception is schedule for October 19, 2017 from 4pm to 6pm in the E. Bronson Ingram Studio Arts Center on the Vanderbilt University campus. All exhibitions and receptions are free and open to the public. For more information please contact the Vanderbilt University Department of Art at: martha.l.dale@vanderbilt.edu, 615-343-7241.