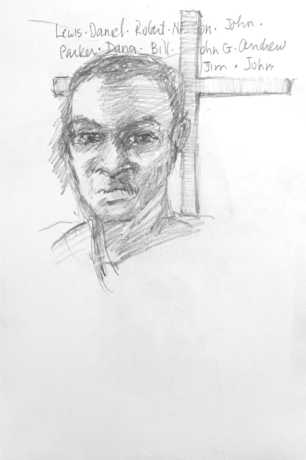 Exhibitions
DRAWING THE RESISTANCE
Brenda Butka
CONVERGE is pleased to present Drawing the Resistance, a show of drawings and related poetry by Brenda Butka, this September and October. Brenda documented her experience as a protester in the Poor People's Campaign, which occurred earlier this year, with fresh drawings that capture the tone of the event and the characters of fellow protesters and police. An artist talk, poetry reading, and Drawing the Resistance chapbook release for Brenda Butka will be held on Saturday, October 6th, from 4:00 to 6:00 pm, at CONVERGE, located on the second floor of the SNAP (South Nashville Action People) Building at 1224 Martin Street. Manuel Zeitlin will guide our talk, which will begin promptly at 4:30. CONVERGE curated and designed the chapbook, which features Brenda's drawings and poetry from the show.
The Closing Reception will immediately follow, from 6:00 to 9:00 pm, at CONVERGE and CONVERGE: EXTENSION 1, our satellite space located one block away at 1260 Martin Street. These events are held in conjunction with Arts & Music at Wedgewood-Houston, and are free and open to the public. The show will continue to be on view through October 19th. To schedule an appointment, please contact Alysha at Alysha.CONVERGE@gmail.com.
Brenda's thoughts regarding her experience and the resulting body of work are as follows: "When I heard about William Barber resuming Martin Luther King's Poor People's Campaign, I knew I had to be there. As a physician, I have seen my patients and hospital co-workers struggle with these problems, and as a recent retiree, I had the time to witness on their behalf.
Forty states, including Tennessee, organized six weeks of demonstrations to call attention to the poor and marginalized — LGBTQ, immigrants, prisoners, and the sick. Some demonstrators were prepared to be arrested each week, and the group was carefully trained.
I documented our protests with on-the-fly sketches in the 90-degree swelter of a June afternoon, and in the rain, at the War Memorial, where we met each time, and in the streets, and the governor's hallway. I draw to record the quirky beauty of us all, to slow time down to the speed of a pencil, and as a thoroughly human witness to these events."
Brenda Butka recently retired from Vanderbilt, where she practiced pulmonary medicine. Although she has written poetry since childhood, and been widely published, she started drawing and painting mid-life. Her work is now represented by Sunset River Marketplace in NC.
Initiated by Eric Malo and Alysha Irisari Malo, CONVERGE is a curated community of creative thinkers who collaborate on interdisciplinary, project-based cultural programming that has a positive social impact. CONVERGE is a fiscally sponsored project of the Arts & Business Council of Greater Nashville, a nonprofit organization.