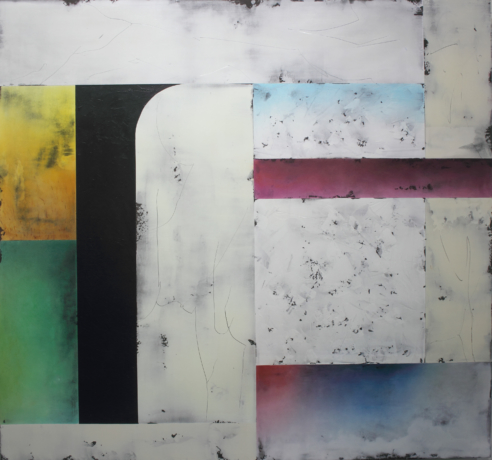 Exhibitions
DON ESTES: PERIPHERY
Don Estes
Don Estes leads David Lusk Gallery Nashville into spring with PERIPHERY, a solo exhibition of abstracted, dimensional landscape paintings on panel.
Estes focuses on river bluffs, coastlines, and horizons - geological formations where water, land, and light interact through the passage of time. In a range of textures and color intensity, he layers dry pigment, pastel, and gesso to create harmonious horizontal and vertical bands, narrow stripes, wide blocks, and translucent washes onto panel. His work, both in subject matter and media share the same dualities and subtle complexities of the environments he depicts.
In PERIPHERY, Estes maintains his process while exploring more neutral color palettes and inventive textures. Of his new body of work, Estes states," The paintings are a new body of work that interprets landscape as basic geometric forms arranged on a single plane. Spatial illusion is suggested by areas of color, as well as by line drawings scratched and etched into the ground coating of the panel. The goal is to evoke a sense of seeing not only some thing, but some where."
---
Don Estes received his BFA and MFA from the University of Memphis. An original founder of Number: A Quarterly of the Visual Arts, Estes is a pioneer of the emerging and non-commercial arts environment in Memphis' South Main Arts District. His Second Floor Contemporary Gallery (1999-2005) was an important alternative exhibition space for new work by regional and national artists. He lives and maintains a studio in the South Main Arts District.