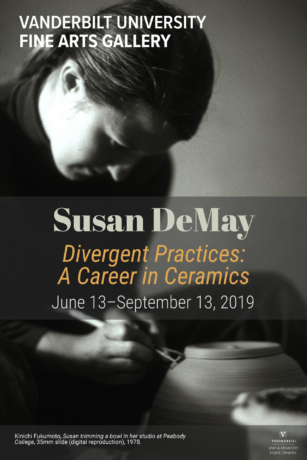 Exhibitions
DIVERGENT PRACTICES: A CAREER IN CERAMICS
Susan DeMay
Artist talk Friday August 9 at 5:00 p.m. in Cohen Memorial Hall, with reception following.
The Vanderbilt University Fine Arts Gallery is pleased to present Divergent Practices: A Career in Ceramics, an exhibition of works by Susan DeMay. In 1977, DeMay began her ceramics career as a graduate student here, at what was then the George Peabody College for Teachers. After earning her M.S. degree and establishing a pottery studio of her own, she was invited to return to Vanderbilt to teach. This summer, nearly forty years after her arrival on campus, she will be celebrating her retirement as a professor in Vanderbilt's Department of Art.
This exhibition surveys ceramics DeMay produced over decades of teaching, running her own production line, and creating original art pieces in clay. On view are selections from three bodies of work that DeMay has developed over the years. The first set includes works made for classroom demonstrations, which underscore technical methods as well as aesthetic considerations. The second represents the colorful production works that DeMay fabricated while running a pottery business, with the help of up to nine assistants. The third group includes a suite of ceramics that are slab-constructed forms, with unique surface treatments and hard, glassy glazes. Each set of artworks reveal a wide-ranging set of visual references, an engrained understanding of traditional ceramic practices, and an inspired exploration into color and hand-wrought forms.