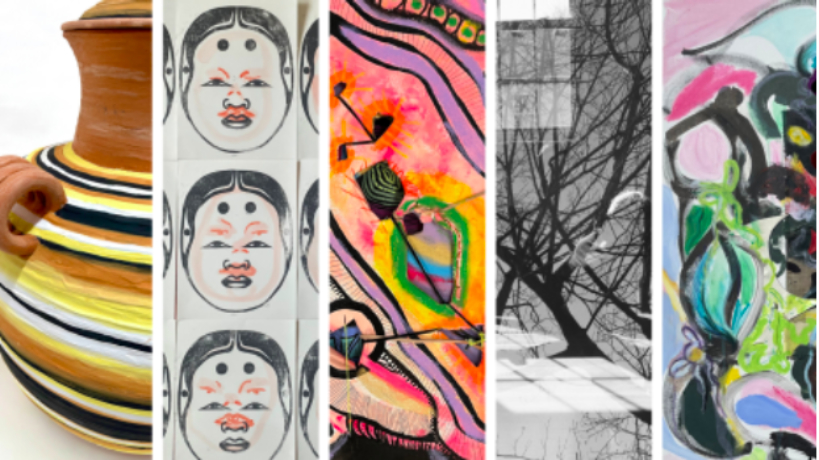 Exhibitions
DISTINCT IMPRESSIONS: REFLECTIONS OF CULTURE, IDENTITY, AND PLACE
Theresa Buffo, Sai Clayton, Cesar Pita, Evelyn Thoen, Shayna Hobbs
COOP Gallery is pleased to present work by five of our new members in Distinct Impressions: Reflections of Culture, Identity, and Place, opening Saturday, April 1st. Distinct Impressions: Reflections of Culture, Identity, and Place features five unique voices, cultural identities, and media in an effort to create a conversation around the varying journeys, backgrounds, and cultural perspectives.
More about the Artists
Theresa Buffo was born in Ohio and received a BA in Studio Art from The Colorado College with honors in Painting. Growing up, art exploration was her refuge, and sewing, stitching, knitting were talents inherited from her grandmothers and mother. She studied Industrial and Graphic Design at the University of Illinois Chicago, and has held a variety of creative positions, including working in historic textile and rug conservation for a private collector in Chicago; a product designer for a Nepali Adventure Travel company; and is self-taught in leather work, stitching handbags under the label bocUe. She recently moved to Nashville with her husband and two sons. Follow Buffo on Instagram @studiobuffo11.
Sai Clayton is a visual artist and curator in Nashville, TN. Her work exploits the self-portrait as a vessel for racial representation and as a personification for female sexuality and Asian biraciality. She is currently an American for the Arts Diversity in Arts Leadership intern at OZ Arts, Nashville, and was the 2021–22 Curatorial Fellow at the Frist Art Museum. She holds a B.A. in Visual Arts and minors in Dance and Japanese from Middle Tennessee State University. Find her at www.saiclayton.com
Cesar Pita is a ceramicist born in Los Angeles to Mexican immigrant parents. This experience has influenced Cesar's work and has become the motivation for him to advocate for his community with his work and plans for social projects. His work revolves around cultural exploration/ celebration and addressing social issues Cesar has completed his bachelor's degree at Middle Tennessee State University. He is currently an art handler and a teacher at Buchanan Arts in North Nashville. Follow Pita on Instagram @saysorrywithoutthe_ys.
Evelyn Thoen is a multimedia artist and art teacher based in Nashville, TN. Her work explores time, memory, and place through printmaking, drawing, and film photography. Her work has been exhibited in solo and group shows and can be seen on her website www.evelynthoen.com. Evelyn graduated with a B.A. in Art with a minor in Art History from Westmont College in 2021.
Shayna Hobbs creates art under the name VONALISA. The name honors her late brother, Garrett, and his band, Vonagarden. The word "vona" is Icelandic for "hope". "Lisa" is Hebrew for "God's Promise;" VONALISA means "Hope of God's Promise." As a biracial Indigenous woman from the Stockbridge-Munsee Mohican Nation, VONALISA combines pieces of her native heritage with themes of life, death, sexuality, spirituality, identity, the divine feminine, power, healing, and transformation. Hobbs loves creating layers of mystery and meaning. Every aspect of creation is reminiscent of what she created when she was young, which is another theme she embodies: to always stay childlike and playful. Learn more about VONALISA at vonalisa.com.
---
Image: Left to right: Csear Pita, Sai Clayton, Shayna Hobbs, Evelyn Thoen, and Theresa Buffo