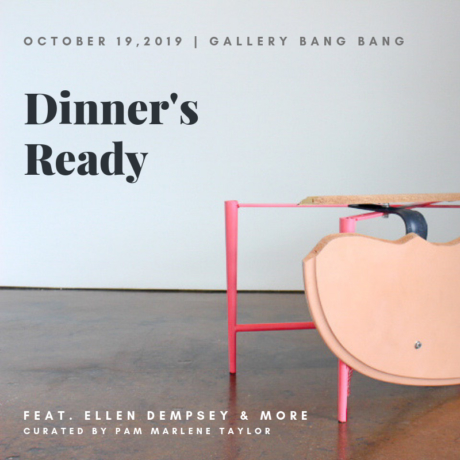 Exhibitions
DINNER'S READY
Gallery Bang Bang October 19, 2019 - November 17, 2019
Ellen Dempsey, Pia Pack, Dana Robinson, Janet Decker Yañez, Quinn Hunter
Dinner's Ready explores the traditionally feminine territory of the Dining Table. Displayed in the nontraditional exhibition space of a House Gallery, where blank walls feel more domestic among a working home, 5 female artists explore the role of the Dining Table in their own lives. The Dining Table is an avenue of nurturing, whether the recipients are children, friends, or oneself. When exploring the Dining Table's role in the lives of women, it is important to consider that Mothering (regardless of actual motherhood) is expected of women as they are propelled into nurturing roles from a young age. This expectation can be seen easily, for a friend hurt on the playground, a worried coworker, or an aging parent, women are presumed to take on the responsibility to nurture. The Dining Table serves as the center of nurturing within the home, an anchor in the past and an inevitable witness to the future of the household. Dinner's Ready highlights this experience of the Dining Table in the lives of women.
---
Curated by Pam Marlene Taylor and Brittany Murphy, Featuring Ellen Dempsey, Pia Pack, Dana Robinson, Janet Decker Yanez, and Quinn Hunter.
Anyone interested in attending the opening and/or visiting the gallery should message the gallery on instagram @gallerybangbang to request the address.