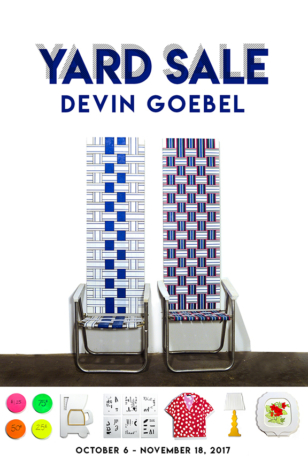 Exhibitions
​DEVIN GOEBEL: YARD SALE
Devin Goebel
Devin Goebel is a Dadaist at heart with his playful spirit evident in everything he creates. The sophistication with which he consistently turns logic on its head is something to behold. Goebel's work turns the most mundane of cast-aside objects into comically oversized, elegantly simplified, works of genius.

Yard Sale, his first solo exhibition at JMG, unites viewers in an absurd and wonderful dream, reminiscent of a classic thrifty hunt. The kind filled with all too familiar cast-offs: the old "Mr. Coffee" coffee maker seen seeking refuge on the bottom shelf of virtually every thrift store in America, that vase you've encountered at so many yard sales, or an old brass lamp so commonplace it has become invisible.

Goebel's re-imagination of these routine baubles and signs will make you feel a little like Alice stepping through a thrift-ed looking glass.