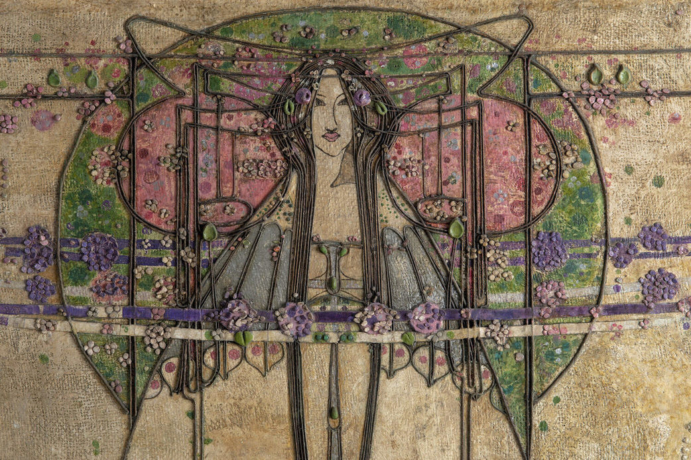 Exhibitions
DESIGNING THE NEW: CHARLES RENNIE MACKINTOSH AND THE GLASGOW STYLE
Charles Rennie Mackintosh
The Frist Art Museum presents Designing the New: Charles Rennie Mackintosh and the Glasgow Style, an immersive exhibition that showcases Charles Rennie Mackintosh—the greatest exponent of the Glasgow Style—as an architect, designer, and artist, and contextualizes his production within a larger circle of designers and craftspeople in Scotland's largest city. Co-organized by Glasgow Museums and the American Federation of Arts, the exhibition will be on view in the Frist's Ingram Gallery from June 11 through September 12, 2021.

At the end of the 19th century, the Glasgow Style emerged as the major manifestation of Art Nouveau in Britain. Combining influences from the Arts and Crafts movement, Celtic Revival, and Japonism, Glasgow artists created their own modern design aesthetic, synonymous with sleek lines and emphatic geometries expressed in a wide range of materials.

This exhibition presents 165 works of fine and decorative art in a wide variety of media, including architectural drawings, books, ceramics, furniture, posters, textiles, and watercolors, drawn from Glasgow's most significant public and private collections. Videos provide guests with tours of buildings designed by Mackintosh and his contemporaries.

Charles Rennie Mackintosh (1868–1928) is one of the most significant architects of early modernism, and Designing the New places his work into the context of Glasgow circa 1900, during the industrial city's heyday. In 2018 Glasgow Museums organized this exhibition to celebrate the 150th anniversary of Mackintosh's birth, and this is the first major Mackintosh exhibition in the United States since 1996. "Designing the New is a landmark in the study of his career and offers a rare opportunity to see the art of Mackintosh and his contemporaries outside of his native city," says Frist Art Museum senior curator Trinita Kennedy. "We are thrilled to introduce the work to our guests or further their knowledge and appreciation of the Glasgow Style's impact and legacy."

As the most ambitious and inventive proponent of the Glasgow Style, Mackintosh is often compared to Frank Lloyd Wright, who was almost his exact contemporary. Mackintosh made his mark on Glasgow and its environs with his designs for a variety of buildings, including a church, houses, offices, schools, tearooms and, most important, the Glasgow School of Art, which is currently being rebuilt after two devastating fires. "Interest in Mackintosh has increased over the last thirty years, and architecture and design enthusiasts go on pilgrimage to Glasgow to see his buildings," says Kennedy.
---
Image: Margaret Macdonald Mackintosh. The May Queen (detail), 1900. Made for the Ladies' Luncheon Room, Miss Cranston's IngramStreet Tearooms, Glasgow. Gesso on burlap (hessian) over a wood frame, scrim, twine, glass beads, thread, and tin leaf, 62 1/2 x 179 7/8 in. overall. Glasgow Museums: Acquired by Glasgow Corporation as part of the Ingram Street Tearooms, 1950.
©CSG CIC Glasgow Museums Collection. Courtesy American Federation of Arts