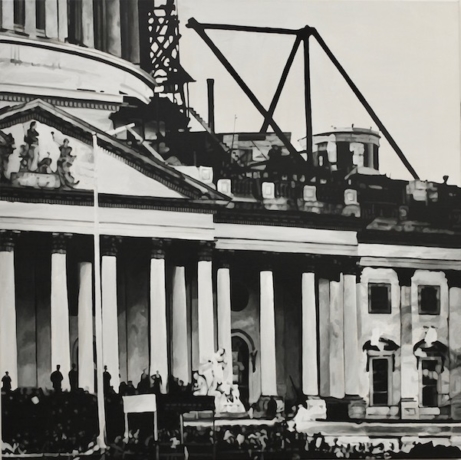 Exhibitions
DANE CARDER: BETTER ANGELS
Dane Carder
Red Arrow Gallery is pleased to announce an exhibition of new paintings by Dane Carder. BETTER ANGELS opens on April 8th, 2017 marks his first solo exhibition with the Red Arrow Gallery.
Dane Carder is blurring the lines between the form of where reality ends and abstraction begins. BETTER ANGELS brings us an entire body of work, based on one monumental photograph of Lincoln's first inauguration. The resulting all black and white paintings of various size, show hyper-focused yet abstract views of the large crowd in attendance and in-depth architectural angles of the surrounding landscape and buildings.
"The door opened to create a series that addressed this unforgettable moment in our story, to make a big statement about this unprecedented, presidential anomaly. But, I really just wanted to make paintings about painting. Everything then seemed to fall into place, internally, as my studio practice continued, as it had for a decade, looking at historic imagery while subtly wrestling with current affairs."
Dane Carder (b. 1972 Nashville, Tennessee) is a self-taught artist. His work utilizes historic images to investigate both personal and universal issues. His paintings have been shown in solo exhibitions at The Morris Museum and The Parthenon Gallery. He has been included in group exhibitions at David Lusk Gallery, Cumberland Gallery and is in the permanent collection at the Tennessee State Museum. Carder currently lives and works in Nashville, TN.
The exhibition BETTER ANGELS will be on view at Red Arrow Gallery April 8th, 2017 – May 14th, 2017. A reception for the artist will be held Saturday, April 8th from 6-9 pm in conjunction with the Eastside Art Stumble.
---
image: Inauguration Day, 2017, acrylic on canvas, 60" x 60"