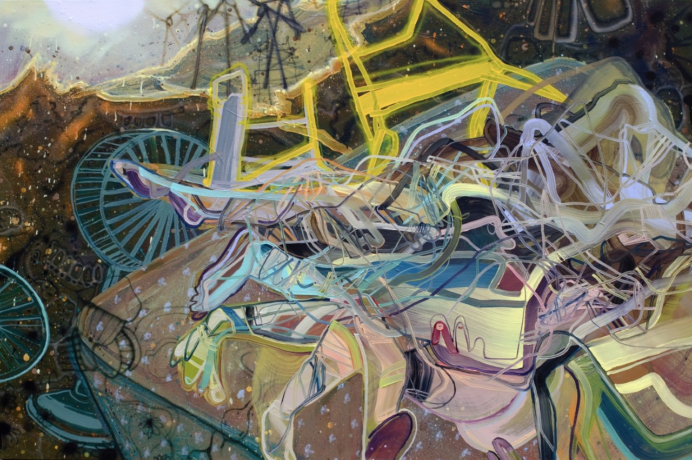 Exhibitions
DANA OLDFATHER: BEAST
Dana Oldfather
Nationally and internationally renowned visual artist Dana Oldfather, opens her second solo exhibition in Nashville titled BEAST, at Red Arrow Gallery on February 8th, 2020 at 6PM. A special event, Artist + Mother Podcast, featuring a panel discussion with Oldfather and other notable visual artists, will be held on Saturday March 7th, 2020.

Dana Oldfather's paintings present a new perspective on abstraction in contemporary art. Her ambiguous works subtly highlight the often overlooked between the organic and mechanical, the digital and analog, the figurative and abstract. The result is something both intimately familiar and entirely new.
In my work I show women in action rather than as static, decorative objects. I put bodies together strangely in order to challenge unattainable standards of beauty and express the anxiety and confusion that arises in reaching for them. These images help me come to terms with the uniqueness of my own feminine body and its aging. The resulting figure resembles a beast of sorts, but for me, a more honest portrayal of what it feels like to be a woman than what I readily see around me." – Dana Oldfather, BEAST Statement January/2020.
Dana Oldfather is a painter who has exhibited nationally in galleries and museums including Library Street Collective, Detroit, Zg Gallery, Chicago, Kathryn Markel Fine Art, New York, The Butler Institute of American Art, and the McDonough Museum of Art in Youngstown. She was awarded the William and Dorothy Yeck Award for Young Painters, two Ohio Arts Council Individual Excellence Awards, and residencies at the Vermont Studio Center and Zygote Press. Oldfather was twice featured in the New York Times and published in the book The Art of Spray by Lori Zimmer of Art Nerd New York. Oldfather's work was recently exhibited at art fairs in Houston, Miami, Palm Beach, and New York, including Art on Paper. Her paintings are internationally collected privately and can be found in many public and corporate collections in the US including the Pizzuti Collection with The Joseph Editions, Eaton Corporation, MGM International, The Cleveland Cavaliers, The Cleveland Clinic, and the prestigious Progressive Art Collection. Dana Oldfather currently works and lives just outside Cleveland, Ohio with her husband Randall and young son Arlo.