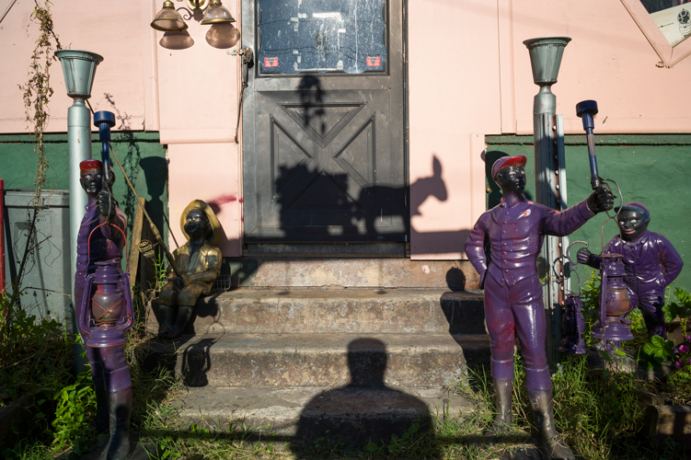 Exhibitions
D I S C O N T E N T: RECENT PHOTOGRAPHIC WORKS BY MIKE SMITH AND LESLIE TUCKER
Mike Smith
Leslie Tucker
Cumberland Gallery is excited to present D I S C O N T E N T featuring recent photographic works by Mike Smith (Tennessee) and Leslie Tucker (New York). Both artists demonstrate the unique eye of the photographer and put forward a critical document of American society. The exhibition opens with an artists reception on Saturday March 3rd, 6-8PM.
Mike Smith returns to Cumberland Gallery with a second solo show featuring recent photographs. The curation is drawn from his 2017 show Parting Shots at the B. Carroll Reece Museum at East Tennessee State University, where he recently retired after 36 years of teaching photography. The work on view will also be included in his forthcoming book Warning Shots, which will be published in Heidelberg, Germany by Kehrer Verlag. The subject of Smith's photographic project is the place he calls home: Southern Appalachia and more specifically East Tennessee. Travelling the back roads of this region, he captures the rural landscape, its people and their way of life and offers an insight into the reality of this idiosyncratic culture. More than merely documenting a society, Smith looks for visual expressions of how day-to-day life is impacted by the current zeitgeist. Alongside careful attention to light, color and shadow play, composition is key to Smith's process: the way elements are situated in relationship to one another. In scenes filled with peculiar objects, deteriorating structures, and unexpected details, Smith finds metaphors and dualities that express the sentiments of the present socio-political state. Many of the works presented in D I S C O N T E N T reflects Smith's response to the 2016 presidential election cycle and the animosity and division it created throughout the nation. Themes center to the current tumultuous political landscape, such as our nation's growing religious intolerance, continual racial inequality, profound economic disparity, escalating gun violence and violence against women, are unmistakably apparent in these large scale photographs (32" x 42"). Amidst a critical narrative, Smith focuses in on children – sometimes with frontal portraits, sometimes with subtle references to their presence such as toys or drawings. The artist states: "I include children because their moral compass is subject to daily challenges within this toxic environment". Smith intelligently sheds light on this dramatic contrast: a sweet kids' portrait in front of a pile of garbage or a colorful Disney poster caught behind a window frame. This is the photographer's way of seeing, his means to raise the difficult questions and generate an in-depth document of a time and place.
After a military career, Mike Smith earned a BFA from Massachusetts College of Art and a MFA in Photography from Yale University School of Art. Notable public collections include the Art Institute of Chicago, Whitney Museum of American Art, Metropolitan Museum of Art, Philadelphia Museum of Art, Museum of Modern Art (San Francisco / New York), the Opryland Hotel in Nashville and many more. Smith has received numerous awards including a John Simon Guggenheim Fellowship and the United States Artists Lowe Fellowship.
D I S C O N T E N T marks New York based photographer Leslie Tucker's first solo exhibition at Cumberland Gallery. She introduces her latest series Manifestos: ten 34" by 24" photo-composite prints, each presenting a focused critique on our consumption based society. Employing a form of digital collage, Tucker carefully composes and manipulates images with various software tools, sometimes placing thousands of elements in one piece with incredible detail and precision. By meticulously sourcing, scanning and photographing these images, she is able to combine the right components to start a dialogue. As such, juxtaposition is the foundation of her process. Central to her artistic vision is a passion for consumer culture and her work as a visual strategist, influencing the mindset and purchasing behavior of the American public. As a visual artist, she rearranges these familiar and trustworthy images to explore her own themes. Social and economic justice, the environment, race, gender, and human rights are examined through the juxtaposition of mass-produced popular-culture imagery. In an attempt to create awareness and self-reflection, the artist states: "I invite my audience to meander through my decorative tableaus to rediscover the underbelly of our humanity". From this interest in decoding the human nature, she hopes to generate a better understanding of who we are, who we've been, and who we are becoming. To lure the viewer, Tucker translates this 'disquieting content' into a lustrous aesthetic, showcasing an intricate appeal, jewel-toned colors, and an abundance of gold. An artist's testimony of our current society, the Manifestos series is conceived as a 21st century illuminated manuscript: each piece signifying one page of the story, containing text and image. This format corroborates the artist's belief of photography visually preserving our time. Tucker's themes of illumination are harnessed by contemporary but unconventional technologies. Lightjet printing reproduces an image the way we see the world: the simultaneous exposure of red, green, and blue laser light (not CMYK). Additionally, the artist's preferred surface is Endura Metallic paper, which iridescent finish and rich metallic appearance is a nod to medieval gilding.
Leslie Tucker earned her BFA from Manhattanville College and completed post graduate work at the Parson School of Design. Her photographic constructions have been awarded the 2016 and 2017 first prize in the Fine Art Professional category of the international juried competition organized by Creative Quarterly: Journal of Art & Design. Tucker is a member artist of the Los Angeles Center for Digital Art, a membership she acquired through her first place in the LACDA international juried competition of 2008.