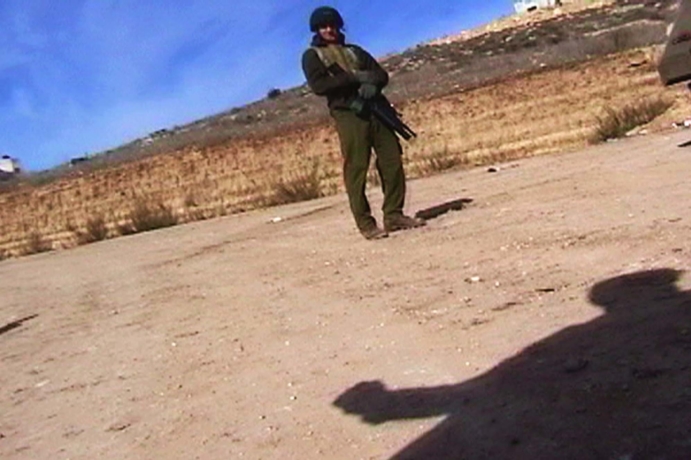 Exhibitions
EMILY JACIR: CROSSING SURDA
Emily Jacir
Crossing Surda is a document of Jacir's experiences, some banal, some harrowing, of crossing the militarized Surda checkpoint that separates Ramallah where she lives from Birzeit University where she works.
In the exhibition Emily Jacir brings viewers along with her has she walks to Birzeit University over the span of eight days. Jacir began recording her walks following an encounter on December 9, 2002 at the Surda checkpoint where the Israel Occupation Army confronted her for filming her feet with her video camera. After a three hour detainment, her video tape was confiscated upon her release. In response, Jacir recorded with her video camera in her bag - recording through a small hole cut into the side.
Jacir is an artist whose work which spans a range of strategies including film, photography, sculpture, interventions, archiving, performance, video, writing, and sound investigates histories of colonization, exchange, questions of translation, transformation, resistance, and movement. She is the recipient of numerous prestigious awards including a Golden Lion at the 52nd Venice Biennale (2007); a Prince Claus Award from the Prince Claus Fund in The Hague (2007); the Hugo Boss Prize at the Guggenheim Museum (2008); the Alpert Award (2011) from the Herb Alpert Foundation; and the Andrew W. Mellon Foundation Rome Prize Fellowship at the American Academy in Rome (2015).
Her recent solo exhibitions include Alexander and Bonin, New York (2018); IMMA (Irish Museum of Modern Art), Dublin (2016-17); Whitechapel Gallery, London (2015); and Guggenheim Museum, New York (2009). Her work has been regularly featured in major international group exhibitions, including at The Museum of Modern Art, New York; the San Francisco Museum of Modern Art; and dOCUMENTA (13) (2012). She is one of the founders of the International Academy of Art Palestine in Ramallah and was a full-time professor there from 2007 to 2017. In 2014 she co-founded Dar Yusuf Nasri Jacir for Art and Research in Bethlehem, Palestine, a grass-roots independent artist-run initiative founded in 2014 and is located in our 19th-century family home in Bethlehem.
Image: Emily Jacir, still from Crossing Surda (a record of going to and from work) 2002, two-channel video installation, dimensions variable, photo: courtesy of the artist