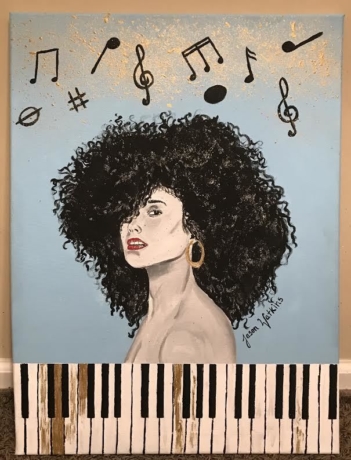 Exhibitions
COLLECTIVE MEMORIES: CREATIVE EXPRESSIONS THROUGH CONTEMPORARY ART
Michael McBride, James Threalkill, Dayo Johnson, Diane Stockard, Carlton Wilkinson, Lakesha Moore, Lisa Sims, Leroy Hodges, Barbara Hodges, Lloyd DeBerry, Roger Smith, Henry Jones, DeeDee Potter, Destiney Powell, Mary Watkins, Jamaal Sheats, Jennifer McGuire, LaRonda Angelisa, Ginny Toygre, George Nock, Walter Pope, Michael Mucker, Thaxton Waters, Suzanne LeBeau, Robert Orr Jr., Xavier Payne, Daniel Arite, Donna Mag, Heliose Shiltat, Elisheba Israel, Omar Booker, Robert Miranda
The MTSU Department of Art and Design announces a duo of collaborative exhibits curated by Dr. Barbara and Mr. Leroy Hodges entitled Collective Memories: Creative Expressions Through Contemporary Art and Words To Live By. Scheduled October 24–November 21, 2020, in the Todd Art Gallery, Todd Hall, Room 224A, the exhibits share the main gallery and finish the department's fall exhibition calendar.
Asked to describe their curative efforts, Leroy Hodges stated, "Collective memory spans nations, cultures, and generations. This collaborative brings together sculptures, paintings, and works on paper by local, regional, and national artists embracing and showcasing their creative expressions of collective memories through contemporary art." Thus, the viewer will see artworks that tell stories spanning personal and cultural memories that are open to interpretation, then reorients the past, not as a fixed narrative but as a multiplicity of voices from a multitude of differing viewpoints. Artistic styles range from a vibrancy of color, subtle abstraction, a gamut of textures, provocative images, mixed media, surrealism, figurative, and layered landscapes. Hodges further points out, "This exhibit creates an environment conducive to healthy dialogue, which unites us through collective memories that inspire, educate, and empower the observer to discover the many versions of ourselves."
Words to Live By showcases the artistry found from a broad spectrum of senior adults, veterans, and community youth. The work conveys the creatively and visually expressive interpretations of how words, phrases, quotes, and sayings significantly influenced their lives. Exploring the transformative nature of words, this group of artworks gives a voice to the voiceless intending to inspire, engage, educate, and empower each viewer. These words and art span nations, communities, cultures, and generations, establishing a relationship between the companion exhibits. Of Words To Live By, Hodges adds, "We hope these art exhibits give a voice to those who desire to be boundless by words."
A sample listing of participating artists includes Michael McBride, James Threalkill, Dayo Johnson, Diane Stockard, Carlton Wilkinson, Lakesha Moore, Lisa Sims, Leroy Hodges, Barbara Hodges, Lloyd DeBerry, Roger Smith, Henry Jones, DeeDee Potter, Destiney Powell, Mary Watkins, Jamaal Sheats, Jennifer McGuire, LaRonda Angelisa, Ginny Toygre, George Nock, Walter Pope, Michael Mucker, Thaxton Waters, Suzanne LeBeau, Robert Orr Jr., Xavier Payne, Daniel Arite, Donna Mag, Heliose Shiltat, Elisheba Israel, Omar Booker, and Robert Miranda.
Todd Art Gallery is a free and open venue to the public with applicable campus Covid-19 policies in place. Gallery hours: Monday–Friday, 8:30 a.m.–4:30 p.m., and Saturday, 11 a.m.–4 p.m. For parking, directions, or other questions, contact 615-898-5532 or eric.snyder@mtsu.edu.