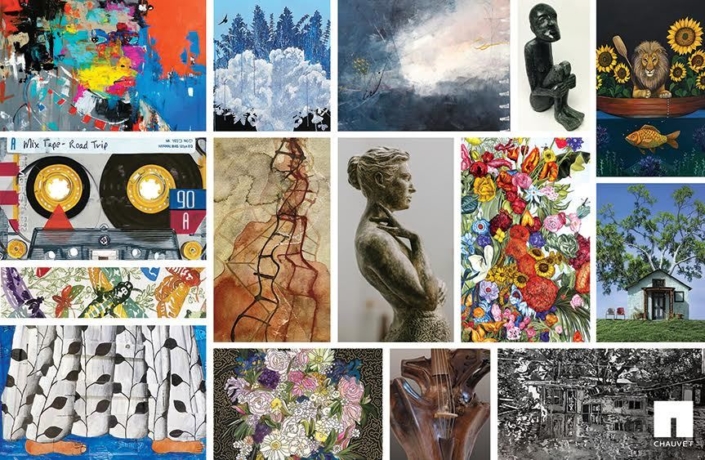 Exhibitions
COLLECTIVE IMAGINATION: ART RIGHT NOW
Michael Moloi, Amanda Coelho, Inger Nova Jorgensen, Michelle Reeves, Emma Levitz, Bill Scott, Sabrina LaFaye, Carlos Gamez de Francisco, Philippe Guillerm, Leonard Piha, Kristen Dabbs, Amie Oliver, Lisa Shimko, Terrell Thornhill
This expansive group exhibition features multiple different artists working in a broad variety of styles and mediums for a unique and varied gallery experience. Featured artwork includes Leonard Piha's eclectic folk art, Amanda Coelho's meticulous realist paintings, Michael Moloi's vibrant abstract portraits, and Inger Nova Jorgensen's dramatic bronze sculptures.

Chauvet Arts is excited to welcome several new artists to the gallery in the upcoming exhibition including South African painter and performance artist Michael Moloi. Heavily influenced by his African roots and dancing background, Moloi uses bold color choices and a sense of movement to create vibrant and dynamic works.
In addition to Moloi, Chauvet Arts welcomes Amanda Coelho, Inger Nova Jorgensen, Michelle Reeves, Emma Levitz, Bill Scott, and Sabrina LaFaye. The exhibition will also feature new work from returning artists Carlos Gamez de Francisco, Philippe Guillerm, Leonard Piha, Kristen Dabbs, Amie Oliver, Lisa Shimko, and Terrell Thornhill.
Collective Imagination: Art Right Now is a diverse array of recent artwork that allows equally diverse audiences to connect with relevant and inspired art.
The gallery is open to the public Tuesday through Saturday, 10 a.m.–5 p.m. For more information about Chauvet Arts, featured artists and upcoming exhibitions, please visit www.chauvetarts.com.