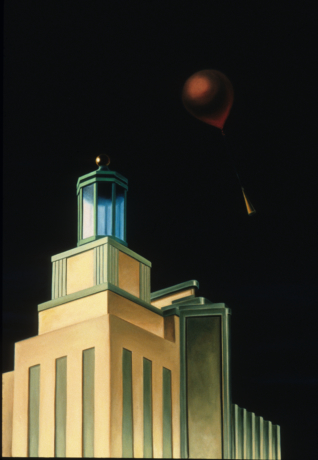 Exhibitions
MARILYN MURPHY: CLOUDS, DREAMS
Marilyn Murphy
Tinney Contemporary is proud to present Clouds, Dreams, a new body of work from Marilyn Murphy.
Marilyn Murphy's surreal, pastel-toned drawings and paintings are rooted in the visual language of mid-century advertising. Executed with a profound command of technique and attention to detail, Murphy conjures a haunting dreamscape which distills–and unsettles–idyllic notions of American industry and domesticity. The artist describes subjects and objects with a surrealist slant: giant pastries hover overhead of anonymous protagonists, mysterious art deco buildings float amongst the clouds, fire encroaches upon poolside canopies and garden parties. Murphy plumbs the depths of our distinctly American collective unconscious, an ambivalent space shaped by commodity and mass-marketing, vacillating between desire and violence, comfort and terror.
---
Originally from Tulsa, Oklahoma, Marilyn Murphy is a Professor of Art Emerita at Vanderbilt University. Her work has been shown in over 390 exhibitions nationally and abroad. The Frist Center for the Visual Arts held a mid-career survey of her work, followed by a two-person show at the Huntsville Museum of Art. Most recently, Murphy's paintings and drawings have been featured in solo exhibitions at the Morris Museum of Art in Augusta, Cumberland Gallery, The Customs House Museum in Clarksville, and the Fine Arts Gallery at Vanderbilt University. Marilyn's work resides in many public and private collections, including the Huntsville Museum of Art, the Boston Museum School, along with the Prudential and Bridgestone Collections and the private collection of Shepard Fairey. She is represented by Adler & Co in San Francisco, Carl Hammer in Chicago, Tinney Contemporary in Nashville, Moremen Gallery in Louisville and Orexart in Auckland, New Zealand.