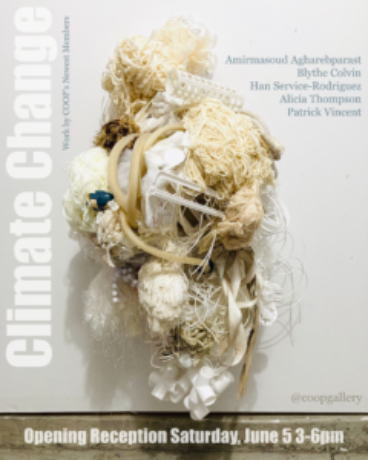 Exhibitions
CLIMATE CHANGE
Amirmasoud Agharebparast, Blythe Colvin, Han Service-Rodriguez, Alicia Thompson, Patrick Vincent
COOP Gallery is pleased to present work by five of our new members in Climate Change, a real-life-in-person exhibition opening Saturday, June 5.
COOP is Nashville's longest-running artist-run project space and curatorial collective, established in 2010. We've spent the last decade working to expand Nashville's dialogue with contemporary art through programming that presents challenging, new, or under-represented artists and artworks. We're excited to add these artists and more to our collective.
We are emerging into uncharted territory, navigating the changes within our artistic and community climates. These five artists represent a cross-section of Nashville's creative landscape.
Amirmasoud Agharebparast is an award-winning photographer/educator who grew up in Isfahan, Iran. He attended Art University of Isfahan (Master of Architectural Engineering), graduated from Penn State (MFA, Art – Photography), and is currently the Assistant Professor of Photography at Austin Peay State in Tennessee. Amir says, "…art is sometimes an act of visually proposing a question; It is the reflection of investigating possible answers. It is an inward mirror of the situations "we" are currently dealing with or have experienced."
Blythe Colvin's work surrounds the idea of culture + craft: the need for us to engage and articulate feelings, moments, narratives, and lived experiences. Art and history engage with the need for creation and connection, including nuanced and unimportant feelings, moments, emotions, and worries. Her still-lifes and portraits bring together her personal struggles of the anxieties of belonging in and accepting the world at hand.
Han Service-Rodriguez is a queer, Latinx, artist born & raised in Nashville, TN. They attended undergrad at The School of the Art Institute of Chicago. Han explores the subjects of identity, sensuality, and sanctity through abstraction, ritualistic drawing, so-called "women's work," and collage.
Their work is influenced by their writing practice, past activism/community organizing, and work as a teacher and outreach worker. From Han: "Art made as action taken: / Art as act of teaching, / Art as act of ritual, / Art as act of conversation- / To grow, / To cope, /To recenter & / Reconnect."
Alicia Thompson is a visual artist based in Nashville finishing her MFA at The School of the Art Institute of Chicago. Her practice is driven by the exploration of the formal material qualities of objects, assembled from surplus and discarded materials with glossy surfaces, radioactive color, and plastic forms. Her work juxtaposes discarded and repurposed objects that ordinarily do not go together. Her work suggests absurdity and misplaced priority, revealing that humanity is at odds with our natural environment and that consumerism is a substitute for spirituality. Ultimately, her practice engages with this disharmony on a societal level while trying to heal and understand it on a personal and spiritual level.
Patrick Vincent was born and raised in Minneapolis, Minnesota, and currently lives in Nashville. He is the Associate Professor of Printmaking at Austin Peay State University. Patrick uses print and print-based structures to explore myth and narrative in graphic traditions, incorporating animal-human iconography to survey contemporary social and ecological issues.