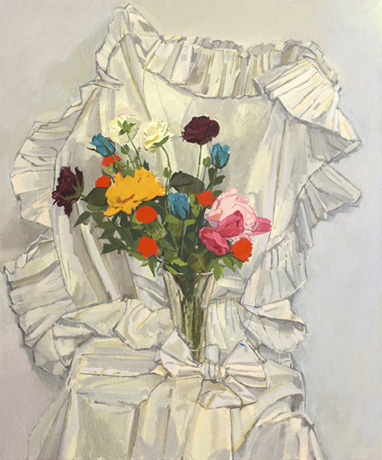 Exhibitions
CHRISTINA RENFER VOGEL: RETREAT
Christina Renfer Vogel
Christina Renfer Vogel kicks off spring at David Lusk Gallery Nashville with vibrant paintings of potted plants and floral arrangements. Staging some against patterned backdrops, Vogel finds a theatricality in both her painting process and finished product. Vogel is also taken with the unremarkable. She frequently paints a single flower or sparse arrangement in front of a solid background.
"This work is a result of finding solace in the studio. I want these paintings to feel lush, verdant, and abundant, a restorative balm by way of visual pleasure."
Vogel works with snapshots as source material, translating moments into paintings. Fitting with her traditional studio-based practice, Vogel is often influenced by things she brings into her studio from the outside. An occupation with the everydayness of houseplants encourages her to put these found, yet selective, objects in conversation with each other.
Rich green leaves mix with loud patterns and serene colors, creating a haven for Vogel and endless arrangements for paintings.
Christina Renfer Vogel has participated in artist residencies at the Hambridge Center for the Creative Arts, the Virginia Center for the Creative Arts, the Vermont Studio Center, and the Kimmel Harding Nelson Center for the Arts. Most recently she attended an artist residency program at JSS in Civitia Castellana, Italy. Vogel holds an MFA from the Massachusetts College of Art and a BFA from Tyler School of Art at Temple University. Recent shows include solo exhibitions at Augsburg College in Minneapolis, MN and the Julia Martin Gallery in Nashville, TN. Vogel is a recipient of an Elizabeth Greenshields Foundation grant, among other awards. She currently serves as an Assistant Professor of Painting and Drawing at the University of Tennessee at Chattanooga.