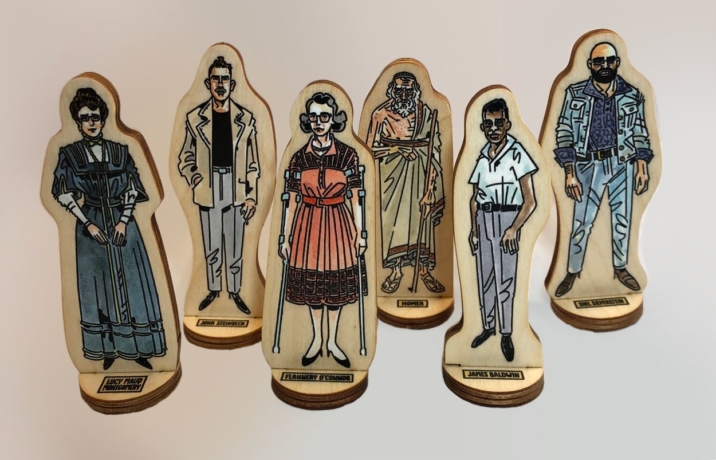 Exhibitions
CHRIS SCHWEIZER: SELECTED WORKS
Chris Schweizer
MTSU's Department of Art and Design welcomes an exhibition of selected works by comics and graphic novels author and artist Chris Schweizer. Scheduled in the Todd Art Gallery, Todd Hall, Room 224A, Chris Schweizer: Selected Works will open the department's upcoming spring exhibit calendar and will be in place January 21–February 15, 2020.
Schweizer received his Graphic Design Bachelor of Fine Arts (B.F.A.) degree from Kentucky's Murray State University, then completed a Master of Fine Arts (M.F.A.) degree in Sequential Art at Atlanta's Savannah College of Art and Design.
Initially interested in drawing comic strips for newspapers, he extended his focus also to include graphic novels. Schweizer's success includes his humorous mystery horror series, The Creeps and his historical fiction series, The Crogan Adventures, for which he received an Eisner Award nomination, the comics industry's equivalent of the Academy Awards.
Of his current work, Schweizer states, "I have, in recent years, spent less time making comics and more creating drawings with accompanying essays, as this awards me the opportunity to tackle a greater quantity of subject matter than does my preferred storytelling medium.
My art is predominantly a means by which to share awareness of or enthusiasm for the subjects that I choose to depict, and in service to that end, almost all of the art that I create is done so with the caveat that I must be able to reproduce my work efficiently. Should a piece only be seen by the patron who owns it or those who have the means to see it in a gallery, I have generally failed in the motive behind its creation.
Therefore most of my work is two-dimensional and easily shared via print or digital reproduction. I've also been experimenting with both paper and wood to create (predominantly historical) vignettes that can be reproduced and easily assembled by those who would wish to have them on hand themselves, which offers logistical challenges absent when creating a single vignette for display."
Chris Schweizer: Selected Works is free and open to the public. Gallery hours: Monday–Friday, 8:30 a.m.–4:30 p.m., and Saturday, 11 a.m.–4 p.m.; closed on Sunday, and for Federal, State, and University holidays and exhibition installations.
For parking, directions, or other questions, contact 615-898-5532 or eric.snyder@mtsu.edu.