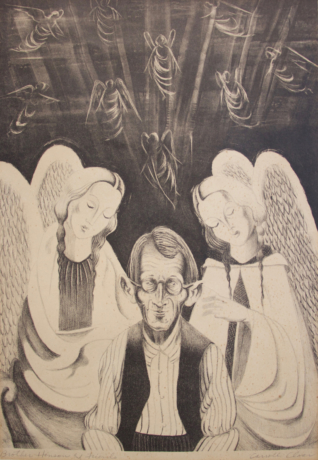 Exhibitions
CARROLL CLOAR: STORIES ON PAPER
Carroll Cloar
This Spring, David Lusk Gallery Nashville presents CARROLL CLOAR: STORIES ON PAPER, a collection of lithographs and drawings by renowned artist Carroll Cloar.
Carroll Cloar (1913-1993) started his professional artistic career in New York in the late 1930s making lithographs that drew inspiration from his rural upbringing in Gibson Bayou, outside Earle, Arkansas. A complicated relationship with his family, local legends, Biblical stories, and family memorabilia formed the subject matter for these surrealist-toned works. In response to an interviewer's question, Cloar once said, "What I continue to find in the South is a connection with the past and how I remember it." One of Cloar's earliest ambitions in life is reflected in a lithograph from 1940 titled The Preacher (Preacher of Holiness). Imagery of summertime prayer meetings, baptisms, and congregations singing surround a stoic, youthful preacher. Portrait of my Mother features Cloar's mother centered on the sheet music of her favorite hymn "In the Golden By and By." Brother Hinson and Friends tells the story of an older, frail man Cloar knew from Earle who related his visions from heaven brought to him by angels.
It is Cloar's lithographs that sparked initial interest in his career. His achievements and skill at the Art Students League in New York earned him a McDowell fellowship, which he used to travel across the American Southwest, West Coast, and Mexico. After serving in the Army Air Corps during World War II, he was awarded a Guggenheim scholarship to fund travel to Central and South America. His lithographs were featured in a LIFE Magazine article "Backwoods Boyhood", helping him secure additional national acclaim, and even a spot in the art exhibition hall of the 1939 World's Fair, and later with a big article in TIME.
The lithographs' strict adherence to black and white forms and painterly lines capture a different mood from Cloar's well-known colorful paintings. Widely recognized as an American scene painter from the South, through a distinctive approach to narrative realism, Cloar's works engage with the regionalism of Grant Wood, the realism of Edward Hopper, and the mythical whimsy of Henri Rousseau. Before a painting was realized, Cloar carefully drew his plan for the final piece on tracing paper. The drawings offer an immediacy and varying levels of detail that give clues to important story elements and remembered impressions: Two Girls in the Lane, Study is sparse with a bit of color on the girls' dresses and large tree lines or hills framing the road. These could be any two young girls growing up in Arkansas. The general store providing the backdrop for Madge and Sis Pearlie Mae is a memory equally as important as Madge and Pearlie Mae themselves. Cloar's drawings, though mostly void of color, vividly portray childhood stories, landscapes, memories, and personal revelations, continuing to mine his backwoods boyhood.
During his lifetime he had works collected by the most important public institutions, including the Metropolitan Museum of Art, NYC; Hirshhorn Museum and Sculpture Garden, Washington; The Museum of Modern Art, NYC; The Whitney Museum of American Art, NYC; Museum of Fine Arts, Boston. Regionally, Cloar is a keynote artist included in the Memphis Brooks Museum, The Tennessee State Museum, Nashville, Arkansas Museum of Art, Little Rock, and Mississippi Museum of Art, Jackson.
Cloar's painting The Folksinger (1971) is included in STORIED STRINGS: THE GUITAR IN AMERICAN ART, exhibited first at the Virginia Museum of Fine Arts in Richmond and traveling to the Frist Art Museum in Nashville in May 2023.
David Lusk Gallery is located at 516 Hagan Street in Nashville. Gallery hours are Tu-Sa, 10-5. For more information or visuals please contact Lees Romano at 615-780-9990 or lees@davidluskgallery.com.