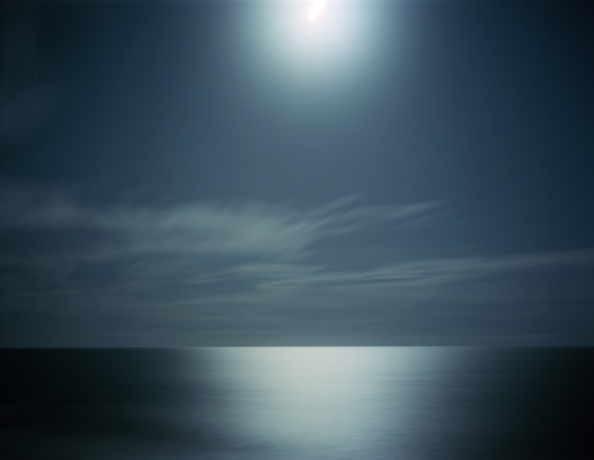 Exhibitions
CAROLINE ALLISON: BEHIND THE MOON
Caroline Allison
Zeitgeist Gallery is pleased to present Behind the Moon, Caroline Allison's fourth exhibition with the gallery. Centered around our relationship to the present day environment, Allison's new body of work is comprised of large-scale color landscape photographs and cyanotype photograms.
Enlarging upon her 2019 exhibition A History of Snow, Allison continues her work to include in-camera manipulations of the ocean, the rising moon, rivers, and other archetypal landscapes. In contrast to previous bodies of work that were documentary of a specific place or moment, this series is far more interpretative. The artist's contemplation of time is present throughout all of the works. Moments of ephemerality in the natural world are seen through cyanotype photograms of spiderwebs and exploding snowballs. Time's steadfast and quiet presence is evident in photographs of the passing moon and changing tides. Through multiple exposures, sometimes as many as 50 exposures onto one sheet of film, the photographs are attempts to seize time and to understand the thin slice of air and earth that sustains us and that we so precariously inhabit.
Also included in this new work is the artist's rendering of the sky as it appeared on the day of Galileo's recantation before the Inquisition in 1633. Made as a meditation on truth, thousands of holes were pricked into a 10' long cyanotype. Each hole represents a star in the sky, creating a sense of witness to a moment when history turned away from truth in service of dogma. In other works, the transience of a spiderweb merges with fossil dust and glass in an attempt to permanentize the temporary. Drawing on a diverse range of influences from history, physics, and astronomy, Allison creates an expanded sense of time and contemplation of humankind's existence as but a point on the galactic time scale.
---
Born in Atlanta in 1972, Caroline Allison received her MFA from the School of the Art Institute of Chicago and her BA from The University of the South, Sewanee. Her work has been included in group exhibitions in the US and internationally, including ZieherSmith (Nashville), Whitespace Gallery (Atlanta), Howard Greenberg Gallery (NYC), the Bronx Museum, Lehmann Maupin (NYC), and Daniel Cooney Fine Art (NYC). Solo exhibitions have included the Chicago Cultural Center, Momentum Art (Berlin), NFA Space and Slow Gallery (Chicago).