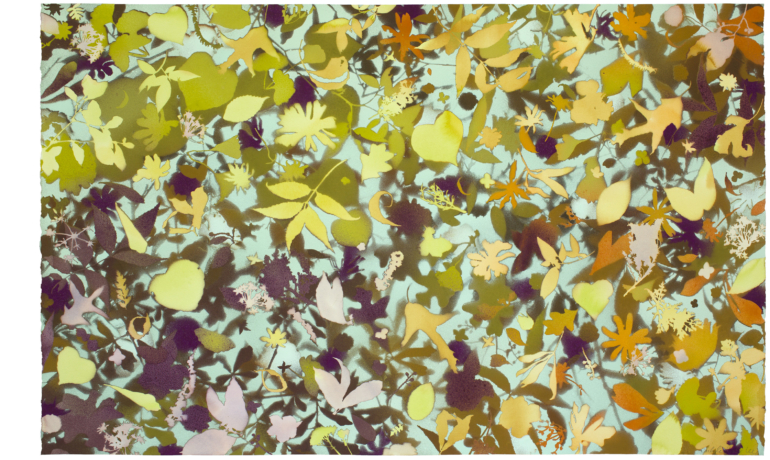 Exhibitions
CARLYLE WOLFE LEE: GOLDEN
Carlyle Wolfe Lee
Carlyle Wolfe Lee returns to David Lusk Gallery Nashville in September with her solo show GOLDEN. The show features observational works on paper and panel rich with saturated colors that hold tight to the last moments of summer and propel us into fall.
Lee has devoted many years to observing changes in color and light that occur with seasonal transitions. GOLDEN embodies rhythms, patterns, and hues that develop as plants seed, trees change, flowers bloom, and plants rest and recuperate before starting the process again. She facilitates a deep connection with her natural environment - lush green grass, abundant blooms, and large trees surround her rural Oxford, Mississippi studio.
Lee employs a meticulously cumulative process to create stark line drawings, densely layered watercolors on paper and paintings on panel. Beginning with graphite plant studies on paper, she collects shapes, lines, and colors to develop seasonal environments. From her studies, she develops stencils that become abstracted based on the perspective of the drawing. These abstractions blur recognizable flowers and leaves, while tonal color palettes guide our understanding of her surroundings. The oscillations between abstract imagery and realistic depictions mirror fading light and shadow within her paintings, representing an infinite, evergreen environment.
---
Carlyle Wolfe Lee received her BFA in Painting from the University of Mississippi and MFA in Painting and Drawing from Louisiana State University. She has exhibited work throughout the South at many public institutions, including The Dixon Gallery and Gardens, the Mary C. O'Keefe Cultural Center, the University of Charleston, the Shaw Center for the Arts, the Mississippi Museum of Art, the Lauren Rogers Museum of Art, the University of Mississippi Museum, and the Arkansas Museum of Fine Arts.
David Lusk Gallery is located at 516 Hagan St in Nashville. Gallery hours are Tu - Sa 10-5. For more information or visuals please contact Lees Romano at 615.780.9990 or lees@davidluskgallery.com.