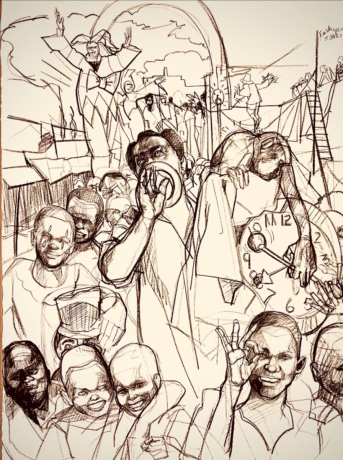 Exhibitions
CARLTON WILKINSON: IN THE GALLERY, LOOKING AT THE PAST, PRESENT, AND FUTURE
Barbara Bullock, Noris Binet, Craig Brabson, William Buffett, Bill Capshaw, David Cassidy, Gail Clemons, Susan DeMay, David Driskell, Samuel Dunson, Donald Earley, Leroy Hodges, Barbara Hodges, Henry L Jones, Gediyon Kifle, Myles Maillie, Drew Morrison, Fred Mutebi, Sammie Nicely, Jairo Prado, Somers Randolph, Ashley Seay, Mary Elizabeth Townsel, Kevin Wurm, Carlton Wilkinson, Lain York
Zeitgeist is pleased to be working with Nashville native, artist, and community leader, Carlton Wilkinson on the exhibition, In The Gallery, Looking at the Past, Present, and Future, which pays homage to the gallery he curated and ran in north Nashville from 1987 to 2007, In the Gallery. Wilkinson is known for his work as a curator, educator, community resource, and as a fine art photographer.
This show began with Wilkinson commissioning local artist, Samuel Dunson, to create an artwork about the In The Gallery experience. That artwork serves as a centerpiece for the exhibition. Wilkinson has asked other associates of In the Gallery to create an artwork to complement this theme. In The Gallery was located on Jefferson Street in the historic Onyx Building that was destroyed during the March, 2020 tornado. Dunson's artwork serves as a commemoration of this era.
Wilkinson has invited artists, many foundational to the Nashville and Jefferson Street creative scene, to comment through their work on their vision of the past, present, and future of the Nashville art scene. Participating artists represent In The Gallery and Wilkinson Art (Wilkinson's current art brokerage business.) A special collection of work by renowned artists: Barbara Bullock, David Driskell, Sammie Nicely, Sam Gilliam and special selections from the African diaspora, will also be on display.
Zeitgeist will be open July 3 for a preview from 12-6 and for the opening, July 10, 12-6. Otherwise by appointment. Masks required.
Image: Donald Earley, We 2021, graphite