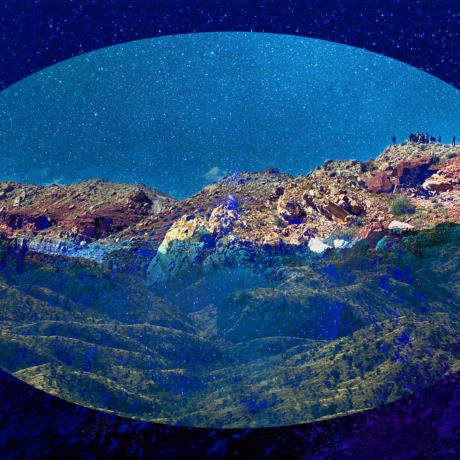 Exhibitions
CARLA CIUFFO: LUNAR
CARLA CIUFFO
Carla Ciuffo's transportive, digitally-manipulated photographs conjure otherworldly vistas; hazy pastel dreamscapes dusted with stars, accentuated by flashes of brilliant reds and blues. Silhouetted visitors are dwarfed by massive observatories, the telescopic apparatus of science-fiction-turned-reality; geodesic domes housing the hi-tech lenses capable of capturing light from stars a billion miles from earth.
Coincidentally, the "lunar" topographies of the desert–where urban sprawl and light pollution don't yet reach–are the precise places where this sort of image making is possible. Ciuffo's approach treads the boundary between documentary and experimental arts. This involved pilgrimages to various sites of cosmological significance, including Kitt Peak National Observatory, Meteor Crater, Mt. Lemon Sky Center, and more.
Ciuffo's innovative image making process, along with her utilization of experimental printing and installation techniques, create a layered and immersive environment. A custom "Lunar" aroma by award winning scent designer Christopher Brosius (I Hate Perfume) adds an olfactory element while shifting surfaces created by photographic overlays, video projection, and ambient sound yield a sublime space for escape and reckoning.
Here, 50,000 year old craters, light from distant stars, cutting-edge imaging technologies all coexist. At a time when the world is, once again, turning towards the cosmos, Ciuffo turns her imaginative gaze earthward in constructing these cosmic portals that collapse time and space. The exhibition undertakes a metadiscourse of the creation and circulation of imagery so integral to an understanding of our place in the universe.