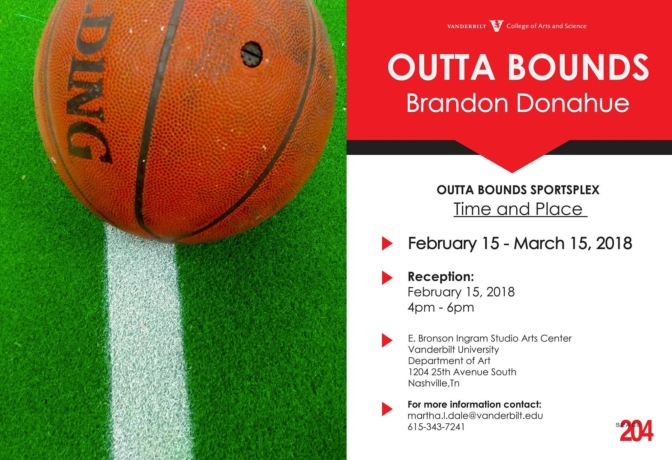 Exhibitions
BRANDON DONAHUE: OUTTA BOUNDS
Brandon Donahue
Welcome to the OUTTA BOUNDS Sportsplex. Director Brandon Donahue invites you to experience this new arena. Please follow Sportsplex rules and regulations while visiting.
OUTTA BOUNDS Sportsplex Rules and Regulations
> DO NOT LEAN ON EQUIPMENT.
> DRESS CODE IS STRICTLY ENFORCED. THE DRESS CODE IS… THERE IS NO DRESS CODE.
> THE PARTICIPANT HAS THE FINANCIAL OBLIGATION TO REPLACE BALLS OR EQUIPMENT THAT HAVE BEEN DAMAGED, STOLEN, OR LOST.
> MARK MAKING SHOES MAY BE WORN ON THE GYM FLOOR.
> THERE IS NO TIME LIMIT TO PARTICIPATION.
> TO ENSURE A COMFORTABLE ATMOSPHERE FOR EVERYONE, PLEASE BE COURTEOUS AND RESPECTFUL OF OTHERS.
> VISIT REGULARLY.
> NO PAIN DOES NOT MEAN NO GAIN.
> DUE TO CHAOTIC NATURE OF PLAY, IT IS NORMAL AND EXPECTED THAT PLAYERS AND/ OR BALL WILL GO BEYOND PERCEIVED BOUNDARIES.
---
Space 204 and the Vanderbilt University Department of Art welcomes "OUTTA BOUNDS" a new exhibition by Nashville artist and educator, Brandon Donahue.
BIO:
Brandon J. Donahue is a painter, sculptor, and performance artist born in Memphis, TN. Brandon currently lives and works in Nashville where he is an assistant professor at Tennessee State University. He received his MFA from the University of Tennessee in Knoxville.
Over the past seventeen years, Brandon has been professionally custom airbrushing at t-shirt and car shops, athletic events, carnivals, festivals, and homes. Customizing and personalizing things are a rite and he believes in the ability to transcend the original state and meaning of things. Brandon sees himself in the work and realizes that he, too, has potential to change.
Brandon's work relates to traditions of street art, Art Povera and occupies a space between low and high art culture.