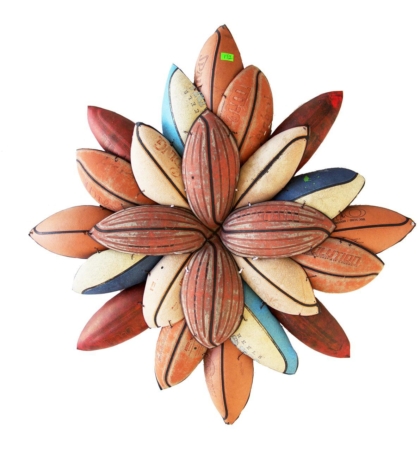 Exhibitions
BRANDON DONAHUE: NO LOOK PAST
Brandon Donahue
"No Look Past is an exhibition comprised of two seperate bodies of work that are slightly differentiated by processes. In one body of work, I am deconstructing and reassembling "found" and "searched" for objects such as basketballs and footballs without applying paint. In the other, I am customizing "found" and "searched" for objects with text, airbrushed acrylic and spray paint. There are objects such as heavily starched, airbrushed jeans and suttering street signs...." - Brandon Donahue 2018
---
A Memphis native and Nashville artist, Donahue began airbrushing at the age of 12. His work is anchored in grafitti traditions while his MFA and extensive fine art experience drive him to elevate the form. This is his first solo show on Hagan Street.

Nashville-based Donahue built a practice grounded in street art, pop art and Arte Povera. A play on "no look pass," No Look Past, a play on a no-look pass in basketball, features Donahue's Basketball Blooms, mandala-like sculptures made from basketballs that carry a history, and airbrushed canvases built on playful contradictions: Donahue is a trained fine artist with a dedication to street aesthetics. Well-known for his public murals throughout Tennessee, Donahue centers his practice on the reinvigoration of found objects.

Donahue was born in Memphis and lives and works in Nashville. He received an MFA from the University of Tennessee and his BFA from Tennessee State University. Before receiving his MFA, Donahue spent a year at the Lorenzo De Medici School of the Arts in Florence, Italy. He has had recent solo exhibitions in Nashville at Vanderbilt University, Oz Arts, and Seed Space; Wrather West Kentucky Museum, KY; and Athica Institute for Contemporary Art, Athens, GA; and numerous group exhibitions in the U.S. and abroad. He has received numerous awards, honors, grants, and residencies, and his work is in the collections of nex-Air, Memphis; Tennessee State University, Nashville; The University of Tennessee Knoxville, Ewing Gallery,
Knoxville, TN; and Toyota of Franklin, TN.

---
Artist Talk: Wednesday, September 19, 6:00-7:00pm