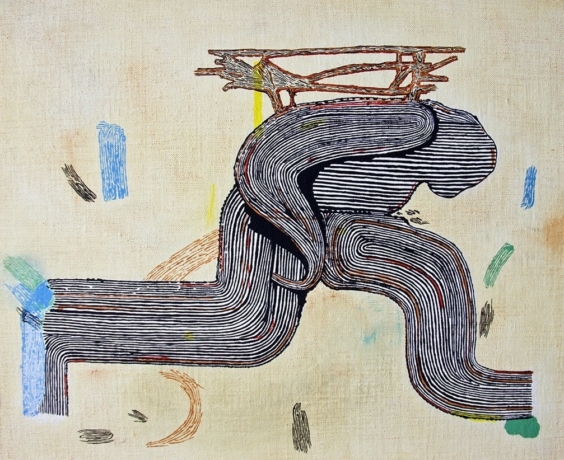 Exhibitions
​BRADY HASTON & DOUGLAS DEGGES
Brady Haston, Douglas Degges
Brady Haston: Fragmentary Survey
Nashville's obscure landmarks, urban reference points, and geology have informed Brady Haston's work and provide the abstract structure for the paintings featured in this show. These paintings are aware of many different times at once.
Haston's work began with a casual search for images and ideas by drawing on online resources and from brief impressions of the Dickerson Pike area where he lives. As this work progressed, Haston came across Paul Clements' book Chronicles of the Cumberland, a collection of letters and first-hand accounts of the people who lived in the Nashville area during the tumultuous early years of the territory. As he read about the struggles and stories of these late-eighteenth-century inhabitants, a deeper understanding of Nashville allowed his work to be in influenced by older memories and the specific histories of the places he passes through on a daily basis.
The work engages the audience through an elaborate metaphor and creates a conversation that expands their knowledge of this specific area while helping to orient the viewer in a local, ongoing history.
Brady Haston is a Tennessee native who spent several years teaching drawing and foundations at Columbia College in Chicago. He is currently living and working in Nashville where he is on faculty at Watkins College of Art and Design.
image: Brady Haston
---
Douglas Degges: Split Ends
Split Ends features two groups of paintings that celebrate slowness: slowness in looking and slowness in making. These works allude to a high speed world dominated by immediate access to anything, from sourcing information on the internet to our ability to capture and store images at a moment's notice. These works wonder what constitutes an image and call attention to the relationship between the image, the thing that we can hold in our mind, and the object that holds or supports it.
Douglas Degges (b. 1986, Louisiana) is an artist living and working in Chattanooga, TN. He received his MFA from the University of Iowa and has been an artist-in-residence at the Millay Colony and the Vermont Studio Center. His work has been exhibited at The Shed Space, Brooklyn, NY; ArtHelix, Brooklyn, NY; John Davis Gallery, Hudson, NY; Material Art Space, Memphis, TN; Southfork, Memphis, TN; mild climate, Nashville, TN; Grinnell College, Grinnell, IA; The Factory, Seattle, WA; Athens Institute for Contemporary Art, Athens, GA; Whitespace, Atlanta, GA; Columbus State University, Columbus, GA: Wayne State University, Detroit, MI; and the School of the Art Institute of Chicago, Chicago, IL. He currently teaches at the University of Tennessee in Chattanooga.