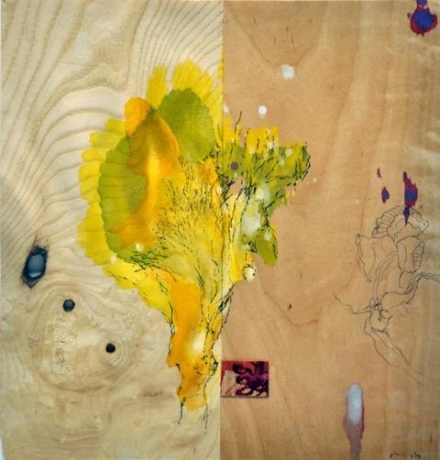 Exhibitions
BOB NUGENT: ECOS DE INHOTIM
Bob Nugent
Since its inception in 1980, Cumberland Gallery has shown and handled the work of California artist Bob Nugent. For his seventh solo show here (excluding numerous group exhibits), Nugent presents a diverse breadth of new paintings and works on paper and veneer. Ecos de Inhotim is a continuation of the artist's impressions of Brazil and the Amazon River Basin, an ecosystem which he has explored through mixed media for over thirty years.
Bob Nugent's studio work and research draw inspiration from his ventures through the rainforest, as he visits the Amazon region of Brazil two to three times a year. The river he articulates, " is an apt metaphor for the act of churning up remembered objects and sights, gathered while traveling along its rough course." In his statement, he describes the flow of the river as a force which picks up and carries elements with it, swallows them, and resurfaces them. This erosion is delicately expressed within the layered lines, rich, warm tones, and saturated hues of Bob Nugent's compositions.
A skilled draftsman in watercolor, oils, ink, pencil, printmaking and other media, Nugent spans a multitude of textures and surfaces inspired by the wealth of living species in the Amazon jungle. Identifiable forms evoke plants, insects, mushrooms, anthills and other organisms found in the lush environment. The artist describes his palette as being "subdued" or shaded, alluding to the thick, deep foliage that barricades both sides of the river. Rather than depicting scenes in the jungle, Nugent expresses and connects the ambiguity of his drawn forms to the natural mystery and remoteness of Amazonian life. As a frequent visitor, Bob Nugent maintains relationships with many of the Brazilian natives of Amazonia, allowing him to better understand the land and landscape of the region as well as current issues facing the inhabitants.
Bob Nugent was influenced early on by Richard Diebenkorn. He received his BFA and MFA at the University of California Santa Barbara and went on to receive numerous awards including a Fulbright Travel Grant, Tiffany Foundation Fellowship, NEA Fellowship, and California Arts Council Grants. He went on to receive numerous awards including a Fulbright Travel Grant, Tiffany Foundation Fellowship, NEA Fellowship, and California Arts Council Grants. Major collectors of Nugent's work include the Triton Museum, Brooklyn Museum of Art, Museum of Contemporary Art in San Diego, Philadelphia Museum of Art, Bank of America, and more. Bob has been included in over six hundred group exhibits as well as over one hundred solo exhibits in colleges, museums and galleries in major cities throughout the United States, South America, Asia and Europe. Publications include Beneath the Vital Layer (1999) by Donald Kuspit, Bob Nugent (2007), an extensive retrospective with interviews and commentary, and Imagery: Art for Wine (2007) co-authored by Nugent and winemaker Joe Benziger. Bob Nugent taught painting and drawing for 34 years and served as Department Chair of Art and Art History at Sonoma State University in 2015 before achieving Emeritus status. He continues to travel and produce art full-time.