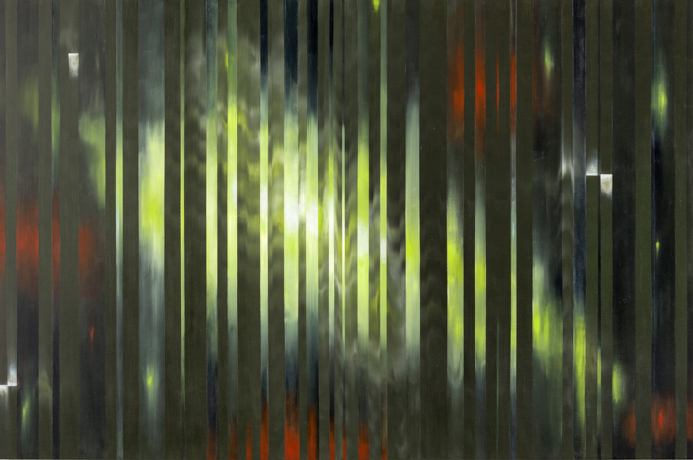 Exhibitions
BETSY STIRRATT: SPACE & VOLUME
Betsy Stirratt
Space is the illusion of depth on a two-dimensional surface. Volume is the quantity of three-dimensional space enclosed by a closed surface. In Space & Volume, Betsy Stirratt shares a body of work that utilizes light and dark, repulsion and attraction. The night sky and the smallest molecule are referenced and measured.
The paintings are made intuitively, based on research into subjects as diverse as mycology, pathology, botany, memory, imagination, religion and spirituality. These interests inform the treatment of the painted surface, and her fascination with these scientific and spiritual practices lends the graphic and pictorial elements gravity. The paintings invoke a mood of cool sadness.
"The night sky and the smallest molecule are referenced in my paintings, rendered in both representational and abstract form. I invoke the ghostly and the paranormal as a way to understand irrational and unexplained phenomena. I look at the night sky and darkness, and study the emergence of light in these environments. Light emerges, but its source is unclear, resulting in ambiguity. I invoke the ghostly, the paranormal and the spiritual to create an immersive environment that invites contemplation."
Betsy Stirratt has been exhibiting her paintings, books, objects and installations since 1983. She attended Louisiana State University and Indiana University, where she received her MFA. Her work has been shown at the National Museum of Women in the Arts in Washington, The American Craft Museum, White Columns, and Art in General in New York, and in galleries in Chicago, Houston, Los Angeles and elsewhere. She is the recipient of several grants and awards, including a Visual Artist Fellowship from the National Endowment for the Arts and awards from the Indiana Arts Commission and the American Craft Council. She is currently the Director of the Grunwald Gallery of Art at Indiana University in Bloomington.
Gallery hours: Saturday 11 – 5PM & By Appointment
image: Betsy Stirratt, Ether, oil on panel, 40 x 55 inches, 2014