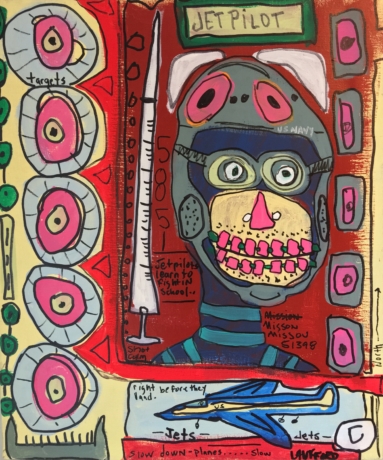 Exhibitions
BEN LANKFORD: WORLD'S MOST DANGEROUS ARTIST // THE GREAT TOYZINI
Ben Lankford
Gallery Luperca is pleased to present a solo-exhibition from Tennessee folk artist Ben Lankford in East Side Project Space. World's Most Dangerous Artist will showcase Lankford's prolific, frenzied work, hung salon-style to provide an immersive experience to viewers. Fellow folk artist and Tennessee native Randy "Toyzini" Toy will take over the auxiliary space, with an installation of his own devising.
From Ben Lankford's Artist Statement:
"Raised on a farm on Yellow Creek in Dickson County. I am a painter and sculptor, with a main focus on outsider art. I use all types of mediums including: car parts, house paint, crayons, shoe polish, etc. I have a very unusual style and each piece of art is one of a kind. I use a lot of "found objects" in my artwork. I have been painting for over 25 years now. Art is my life, I paint everyday, sometimes for hours. I have artwork for sale all over the U.S., thanks for looking at my art."
image: Ben Lankford, Untitled, acrylic and ink on canvas, 14"x18", 2016