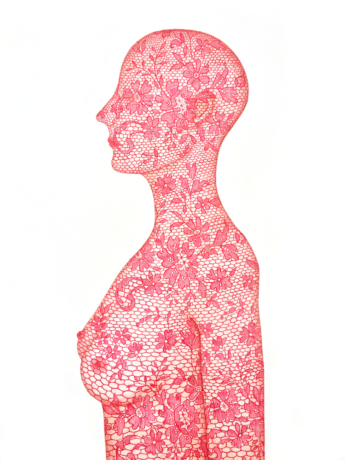 Exhibitions
BARED
Kathy Crabbe, Courtney Kenny Porto, Libby Rowe, Chuka Susan Chesney, Stacy Howe, Teresa Dunn, Cathy Sarkowsky, Bonnie Gloris, Susan Jamison, KA Letts, Susan Detroy, Florine Desmothene, Evelyn Katz, Belgin Yucelen, Suzanne Proulx, Lauren Rinaldi, Amy Cerra, Marlana Adele Vassar, Rosemary Meza-DesPlas
Ground Floor Gallery is pleased to present BARED, an exhibition curated by Sally Deskins which features the work of selected artists from the book of the same name, published in January 2017 by Les Femmes Folles. It explores the gendered narratives that clothe and fashion the body as well as gender subversion and the traditional male gaze.

---
Les Femmes Folles:
Les Femmes Folles is a volunteer organization founded in 2011 with the mission to support and promote women in all forms, styles and levels of art from around the world with the online journal, print annuals, exhibitions and events; originally inspired by artist Wanda Ewing and her curated exhibit by the name Les Femmes Folles (Wild Women). LFF was created and is curated by Sally Deskins. LFF Books is a micro-feminist press that publishes 1-2 books per year by the creators of Les Femmes Folles including the award-winning Intimates & Fools (Laura Madeline Wiseman, 2014), The Hunger of the Cheeky Sisters: Ten Tales (Laura Madeline Wiseman/Lauren Rinaldi, 2015) and BARED: Contemporary Poetry & Art by Women (Edited by Laura Madeline Wiseman, 2017). Other titles include Les Femmes Folles: The Women 2011, 2012, 2013, 2014 and 2015 available on blurb.com, including art, poetry and interview excerpts from women artists. See the latest call for work on the Submissions page.
---
Sally Deskins is an artist, writer, curator, mother and wife based in Morgantown, West Virginia. Her art explores gender, the body and motherhood and has been exhibited nationally in group and solo shows. Her writing focuses on women, feminist and curatorial issues and has been published in Bitch Magazine, Hyperallergic and n.paradoxa, among others. She has curated several independent exhibits around feminism and women. She founded Les Femmes Folles, an organization providing a platform for women in all levels, genres and styles of art. She obtained an MA in art history from West Virginia in 2016 where she won two awards for her thesis research examining the curating of Judy Chicago's The Dinner Party. She is currently Exhibits Coordinator for West Virginia University Libraries.
---
Ground Floor Gallery is committed to providing contemporary exhibitions with depth and relevance in multiple disciplines for a diverse audience with the intent to connect artists with other art professionals, community builders and potential buyers. We present artists with the opportunity to exhibit their work in an alternative gallery and collective artist community, which allows artists to take risks that are not generally supported by commercial galleries.
For more information, contact Janet at 615.478.1467 and info.groundfloorgallery@gmail.com.
Parking in front of the building or on Oak Street.
---
image: Susan Jamison, Lee's Lace