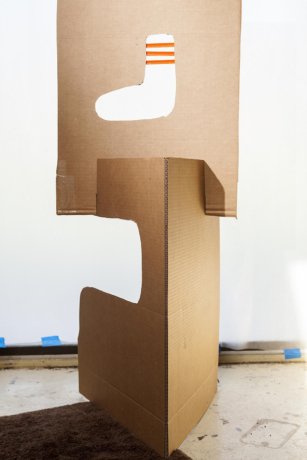 Exhibitions
BARBRA WEISSBERGER: IMPACT SILHOUETTE
Barbra Weissberger
COOP Gallery is proud to present Impact Silhouette, a solo exhibition by photo-based artist Barbra Weissberger. Weissberger's photographs and photo objects resist clear definition, hovering between photography and collage, documentary and imaginary, fact and fiction.
The title Impact Silhouette refers to the hole left in a wall the matches the silhouette of the object or body that has passed through it (think Wile E. Coyote). This phenomenon indicates simultaneous presence and absence. These shapes are both empty registers and historical records.
In like manner, Weissberger's work exists in the space between recognition and perception. The objects in her work are often familiar, cardboard, tape, etc. But the constructed images are spatially conflated, often capricious, and unexpectedly poignant.
Barbara Weissberger's work is shown at such venues as The Drawing Center, White Columns, PS1/MoMA, Gridspace (Brooklyn), Photoville (Brooklyn), Hallwalls (Buffalo, New York), The Mattress Factory, SPACE Gallery and the Pittsburgh Center for the Arts (Pittsburgh), GRIN [Aldrich + Weissberger] (Providence, RI), Artspace (New Haven, Connecticut), ADA Gallery (Richmond, VA), and The Holter Museum of Art (Montana). She was a participant in The Drawing Center's inaugural Open Sessions, and a Guggenheim Fellow. Residencies include Yaddo, MacDowell Colony, Camargo Foundation (France), Ucross, Ragdale, Hambidge Center, The Virginia Center for the Creative Arts, and the Montana Artists Refuge. In addition, she makes collaborative installations with the artist Eleanor Aldrich. Play is central to her process; images grow out of improvisation and the pleasure of working with materials. The writer Sherrie Flick described the idiosyncratic mix of elements in her work as "stacked and wrapped -- harmoniously, improbably, united in their disparity."

COOP is a curatorial collective made up of artists, curators, thinkers and professors who are committed to expanding Nashville's dialogue with contemporary art by presenting challenging new or under-represented artists/artworks to our community. COOP is committed to exhibiting art of diverse media and content, with a goal to provide an alternative venue for artists free from the constraints of the retail market. COOP seeks to initiate a discourse between Nashville and art scenes across the country by inviting artists to show, develop projects and interact with the Nashville community.