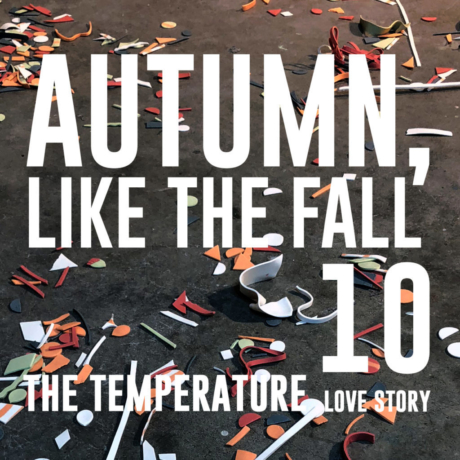 Exhibitions
​AUTUMN, LIKE THE FALL: THE NEON HEATER
Luke Ahern, Jim Fultz, Leah Howell, Cat and Lindsay Mailloux
As an extension of our House Guest Series, Coop invited Ohio-based art gallery, the Neon Heater, to occupy our gallery space for the month of November. See below for more information about Autumn, like the fall.

As part of the monthly theme Love Story, four exhibitions (09 – Mood Lighting, like in your parents basement in the mid 90s, 10 – Autumn, like the fall, 11 – Meat Cute, and 12 – Nuclear, like the family) in November will introduce motivations, purpose and multiple levels of relationships to the narrative.

How do we move on after the loss of a loved one? How do we fill the holes in our life left by death? Collectively, these works are meant to be a meditation on a fracture in the familial unit. The moment when everything changes; when Fall gives way to a cold hard Winter.

Autumn, like the fall is the tenth exhibition of the Neon Heater's The Temperature.
---
The Temperature is a curatorial project of The Neon Heater, an artist run space in Findlay, OH. As part of their seventh year of exhibitions, The Neon Heater will be curating a series of 30 exhibitions across the United States between September 2018 and May of 2019. A loose conceptual narrative will connect the exhibitions via a monthly framework that unfolds throughout the course of the year. The narrative is a critique of the Art world and capitalist art market, American nationalism and exceptionalism, and universalized Hollywood blockbusters.

Exhibitions as part of The Temperature include:

The Setting (September '18):

01 – Raw Hide (the deserts) at the Neon Heater in Findlay, OH

02 – Lines on a Map Mean Little to Eyes in the Sky (Euphrates) at Southern Exposure Project Space in St. Augustine, FL

03 – Different Registers (Atlantic) at Camayuhs in Atlanta, GA

04 – When the Winters Were Still Really Cold (The Rhine) at Usable Space in Milwaukee, WI

05 – Truth & the Flood (The Danube) at Real Tinsel in Milwaukee, WI

Cast of Characters (October '18):

06 – Born Under a Bad Sign at The Neon Heater in Findlay, OH

07 – John the Revelator at River House Arts in Toledo, OH

08 – Remedios the Beauty at Granite City Art and Design District in Granite City, IL

Love Story (November '18)

09 – Mood Lighting, like in your parents' basement in the mid 90s at the Neon Heater in Findlay, OH

10 – Autumn, like the fall at Coop in Nashville, TN

11 – Meat Cute at Lalaland in Fayetteville, AR

12 – Nuclear, like the family at Feast Gallery in Fayetteville, AR