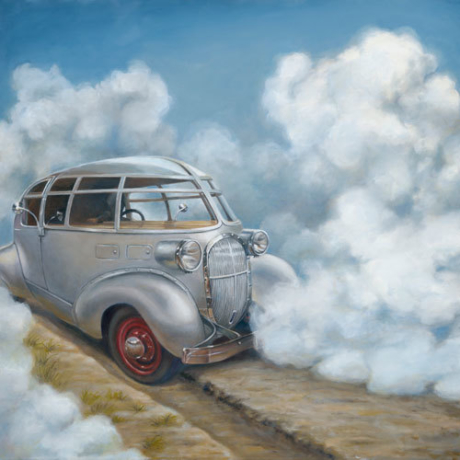 Exhibitions
ATMOSPHERIC PERSPECTIVE & ALTERED REALITY
Marilyn Murphy
Barry Buxkamper
Jeff Danley
Bob Durham
Ron Porter
Atmospheric Perspective
Atmospheric Perspective marks Marilyn Murphy's fourth solo exhibition at Cumberland Gallery. This new body of work, consisting of graphite drawings and a series of oil paintings, is a continuation of Murphy's signature mid-century imagery. Inspired by the era's magazines, cookbooks, found photographs, and Art Deco architecture, and the societal optimism they represent, Murphy creates dream-like images in which objects and characters are pulled out of context and hint at an unlikely narrative. Visits to special locations such as the National Severe Storms Laboratory and the Lane Motor Museum particularly stoked her imagination for this new series. The common denominator in these works is their sense of place: the earth's atmosphere filled with clouds in all shapes and forms. Murphy, who recently became a member of the Cloud Appreciation Society, explains: "My drawings and paintings are very much a product of where I am from and where my home is now. Because I grew up on the Great Plains in Tulsa, Oklahoma, I often include the action of the wind, clouds and strong sunlight in my work." Murphy's boundless use of atmospheric elements emphasizes her enigmatic storylines of weightless subjects floating in bright skies without a horizon in sight. The rules of gravity do not exist here. On the contrary, lightness, airiness and a sense of unlimited open space is implied, moreover alluding to the abstract meaning of the term 'atmosphere' as a sensation, feeling or undercurrent. A must-see exhibition, Atmospheric Perspective will not only place the viewers literally among the clouds, it will also bestow them with a sense of elation, joy and positivism.
Marilyn Murphy is Professor Emerita of Art at Vanderbilt University where she has taught for 37 years. In 2017, she had solo exhibitions at the Morris Museum of Art in Augusta (GA) and the Vanderbilt Fine Arts Gallery. During her long career, Murphy has had work in over 390 exhibitions throughout the country and abroad, received numerous awards, including a National Endowment for the Arts Visual Artists Fellowship in 1996. Her work is included in many collections including Modesto Art Museum, Oklahoma Museum of Art, Siena Art Institute (Italy), and local collections such at Cheekwood Estate & Gardens, Bridgestone, and Metro Arts Commission of Nashville.
---
Altered Reality
Barry Buxkamper, Jeff Danley, Bob Durham and Ron Porter, four well-established local artists, present their 2018 paintings this fall. All painters within the realist tradition, they investigate at large the human condition and the nature of being. Often inspired by their own daily encounters and wonderments, they construct a window into our immediate reality – our momentarily presence in an environment that can be the body, a room, or a landscape. However firmly rooted in observation, each of these artists compose idiosyncratic images in which fragments of this reality are singled out and emphasized, introducing ambiguity, imagination and the opportunity for personal and critical thought. Barry Buxkamper's recent series of self-portraits surrounded by a wealth of objects, textures and materials is not only visually interesting, but also lends itself to further metaphoric and universal interpretation. Jeff Danley generates highly realistic images by closely observing the female body and applying many layers of paint to create the illusion of flesh and blood. Unusual positioning and a contrasting play of light and shadow highlights the beauty, strength and functionality of the human body. Next, Bob Durham's truthfully rendered, but unconventional still lifes and portraits reveal the humor, contradictions and questionable conventions of our culture, which are often exposed by a disruptive, unpredictable element in the painting. Lastly, Ron Porter, who is known for his imaginative landscapes, considers in his work the verbatim or even hyperbolic interpretation of proverbial sayings and behaviorisms as an outing of thoughtful social commentary.
With Altered Reality, Cumberland gallery presents a group of well-established painters. Barry Buxkamper has taught for over 20 years at Middle Tennessee State University and has been featured in the Whitney Biennial of Contemporary American Art. Jeff Danley is a self-taught artist with a following of private collectors in the Southeast and California. Bob Durham taught at MTSU, Vanderbilt University and Watkins College of Art and Design and was selected for True Colors, an international invitational exhibition of American artists' response to the events of 9/11. Former musician Ron Porter received his MFA from Ohio University and has since then been collected by private, public, and corporate collections throughout the country.