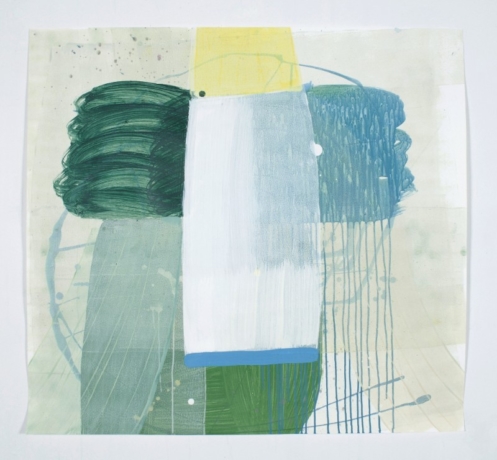 Exhibitions
AT HOME
Ky Anderson, Amelia Briggs, Nick Butcher, Ivy Elrod, Josh Elrod, Rami Kim, Nadine Nakanishi (a.k.a. Sonnenzimmer), Vicki Sher, Jessica Simorte, Sarah Yoder
Taken from the name of early Twentieth Century visiting hours, "at home" times were for catching up with old friends and connecting with new ones. For this show, we are bring back husband and wife team, Nick Butcher (MTSU alum) and Nadine Nakanishi a.k.a. Sonnenzimmer, and introducing new artists from around the country: Ky Anderson and Vicki Sher from Brooklyn, Rami Kim from Los Angeles, Jessica Simorte from Houston, Sarah Yoder from Charlottesville and Amelia Briggs from Nashville via Memphis.
At Home features paintings, prints, ceramics, and a pop-up room by Josh and Ivy Elrod of Wilder. A large focus of this exhibit is works on paper, which allow artists a loose freedom to explore new ideas in painting and make a great entree into art collecting. Artists in At Home have been featured in Juxtapose Magazine, The Jealous Curator, Brooklyn Magazine, Uprise Art, Artslant, and Fresh Paint Magazine.
Opening March 4, 2017, 6-9pm. Part of Arts & Music at Wedgewood/Houston. Second reception April 1, 6-9pm.
Image credit: Ky Anderson, 72"x60", acrylic on paper