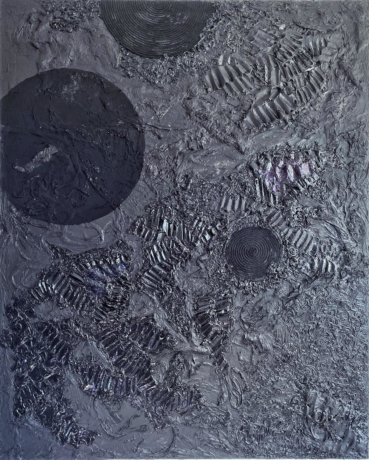 Exhibitions
ASHANTÉ KINDLE: GESTURING JOY
Ashanté Kindle
Red Arrow Gallery is honored to exhibit Gesturing Joy, a solo presentation from sculptural painter, Ashanté Kindle. Opening Saturday, June 4 at 6pm, the exhibition continues through Saturday, June 25, 2022.
Ashanté Kindle is an Artist who uses texture and mark-making as her chosen language. With her hands, styling tools, and most recently found objects, Kindle explores abstraction, Black hair, and her relationship to it. Her practice is a form of personal healing and is driven by memories and the desire to celebrate the history and beauty of Blackness.
My visual language is grounded in the textures and celebration of Black hair.
I encounter the presence of these waves and textures in everything - nature, sound, history, culture and found objects.
In Gesturing Joy, the textures of Black hair become a guide in my continuous pursuit of joy.
Explosions of color and new textural explorations lead me to
That Georgia Mass Choir kinda joy
That 1995 Easter Sunday press & curl kinda joy
That braids and beads kinda joy
That Sounds of Blackness kinda joy
This is what my joy looks like
This is how I call upon it.
Image: Sounds of Blackness, 2022, Styling strips, found objects and acrylic on canvas. 48 x 60 "