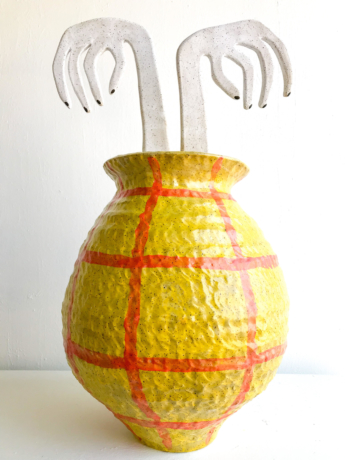 Exhibitions
ASH ATTERBERRY: WE WALKED SLOW TOWARD THE END
Ash Atterberry
This June we welcome Ash Atterberry for her first solo exhibition.
We are long time fans of Ash's work and have welcomed her to our corner shelves many times over the last few years. Most notably for two consecutive Wayne White exhibitions, and now the tables will turn. In complement to this momentous occasion, Mr. Wayne White will be returning the favor with some surprise treats.
Currently residing in Nashville, Ash Atterberry works out of her Elephant Gallery studio where she occasionally conducts tutorials and workshops. Ash received her BFA in ceramics at Southern Illinois University Carbondale and went on to do a Post Baccalaureate at University of Arkansas. Influenced by nature, music, relationships and a dog named Mud, Ash's work appears folk and timeless. She keeps a tiny sketchbook on her person at all times, ready when inspiration strikes. She's rendered many an obscure country music legend on hand-built whisky jugs, tumblers and coffee mugs. I personally enjoy wearing the hell out of a ceramic eye-of-protection bolo I procured from her years ago.
This new body of work is born from loss, love, nature and personal growth - peppered with Western influences creating characters that appear as if she breathed life into a cowboy cartoon. Bright vibrant colors are a hallmark of her creations mixed with bold patterns that echo the work of Southwest Native American pottery as well as contemporary works of the Memphis Art Movement.
There is a heft, humor and whimsy to both the artist and her work. Each is incredibly disarming and charming.