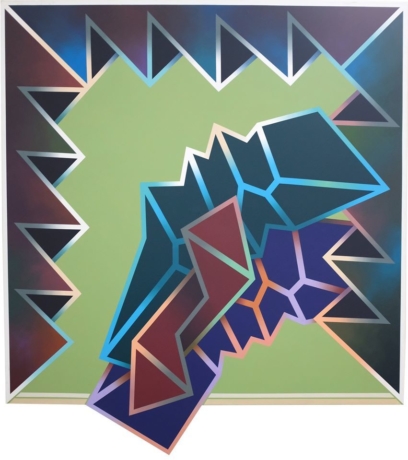 Exhibitions
ARTHUR ORR: ABSTRACTIONS
Arthur Orr
Zeitgeist and Wilder are pleased to present painting from the estate of Nashville icon, Arthur Orr.
Arthur Orr will have family in attendance.
A selection of large-scale canvases and "prototype" drawings spanning the early seventies to mid-eighties will open at the gallery Saturday, February 1st and remain on view through Saturday, February 29th .

Many have collected and are familiar with Arthur Orr's hard-edged abstraction that features delicate line work with subtle color changes. For three decades, he focused on geometric shapes and structures outlined in color gradients floating in various articulated backgrounds. Many of the references the artist carried from the 1960's into the 1980's and beyond continue to be relevant to painters today.

Arthur Orr arrived in Nashville in 1967 joining the faculty at the Peabody School for Teachers and eventually went on to teach at the Cheekwood Fine Arts Center, Watkins College of Art and Design, and Tennessee State University and Fisk University. He was a guest lecturer at the University of Kentucky, Vanderbilt University, and The Art Institute of Chicago. His work has been exhibited locally at Cumberland gallery, The Frist Museum of Art, The Tennessee State Museum, the Tennessee Arts Commission, the High Museum in Atlanta and was featured in an exhibition series that later became the Whitney Biennial at the Whitney Museum of Art.

Orr passed away in Nashville in 2005 but his presence and legacy continue to be felt. At a time that sees the Nashville studio artist community recognized worldwide, it is artists like Arthur Orr, Barbara Bullock, Robert Ryman, Red Grooms, and William Edmonson that continue to build Nashville's reputation.
Josh Elrod of Wilder, recalls seeing Orr's work at the artist's home for the first time in the late 80s, "large scale dynamic, electric colored plywood pieces, vibrating on the wall. I subconsciously created a narrative for him at the time that linked him to a different world, a mysterious land that existed 'out there.'
They had swagger. They were psychedelic and playfully stylized. Here were pieces of a puzzle exploded; jagged, meditative, sharp, alive. Their brightly colored surfaces hinted at the tension that I believed to be at work in the man who painted them.
At his best, Arthur had the ability to distill his shapes and lines into something artificial yet organic, wildly colorful and decorative yet restrained and spiritual. Pushing past the edges of the frame, his paintings -- to me -- suggested larger forces at work.
It is with great joy that I get to be a part of the journey of this work, these paintings that had a seminal impact on me as an artist. They continue to inspire me and have a deeper meaning than before. I see the struggle and recognize a fellow traveler."