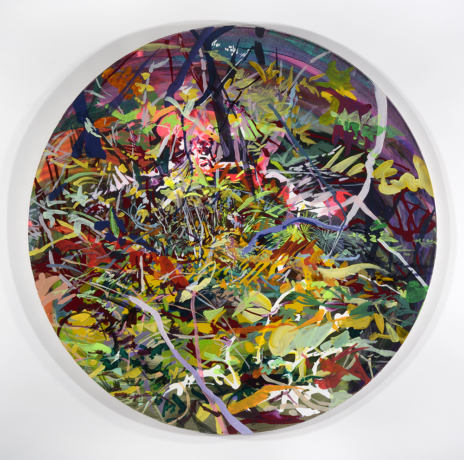 Exhibitions
ARDEN BENDLER BROWNING: ESCAPE ROUTES
Arden Bendler Browning
Tinney Contemporary is pleased to present Escape Routes, a solo exhibition with new paintings and virtual reality work by Arden Bendler Browning.
In her recent works, Bendler Browning leads the viewer through portals into an imagined reality of richly colored, dream-like landscapes. While her inspiration has historically drawn from wide-open expanses while in transit to far off destinations, restrictions on travel throughout 2020 directly affected Bendler Browning's artistic practice. The work created within this time has been informed by more familiar places, such as her urban backyard, local hiking trails, and what she calls "the infinitely detailed worlds within dense foliage and light."
Arden Bendler Browning's intensely-colored gestural paintings are positioned somewhere between chaos and order. They playfully waver between familiarity and the unknown. Some shapes are sharply defined, while others bend and blur. These works abstractly portray a sense of place by referencing tangled botanic forms, pools of water, and blanketing beams of light. Bright and saturated strokes seduce, while deeper colors recede and pull the viewer further into her dimension of indulgent escape.
The VR piece for this show, also titled "Escape Routes" consist of 9 different scenes featuring paintings within the exhibition. Upon putting on the VR headset, viewers will find themselves within a scene centered around one or several paintings. Viewers will be transported into immersive abstract spaces referenced through the paintings, each serving as a portal into a different world which is both vibrant and not fully tangible. Viewers can walk through the environments and through the virtual paint strokes, even partially emerging themselves with the ability to view their own shadows as they move within the worlds.
"Immersing myself in the urban slivers of wilderness in Philadelphia and later through my abstract VR worlds allowed me to momentarily escape the terror and distress of the pandemic (especially while living in a dense city), civil unrest occurring throughout my immediate vicinity, political instability focused on my home base, and the ongoing progression of climate change. Intentionally immersing myself in the infinite details of nature allowed me to absorb the rich activity and life occurring regardless of the chaos occurring in the human world, while also conveying the intensity and heightened awareness of spaces during this time."
– Arden Bendler Browning