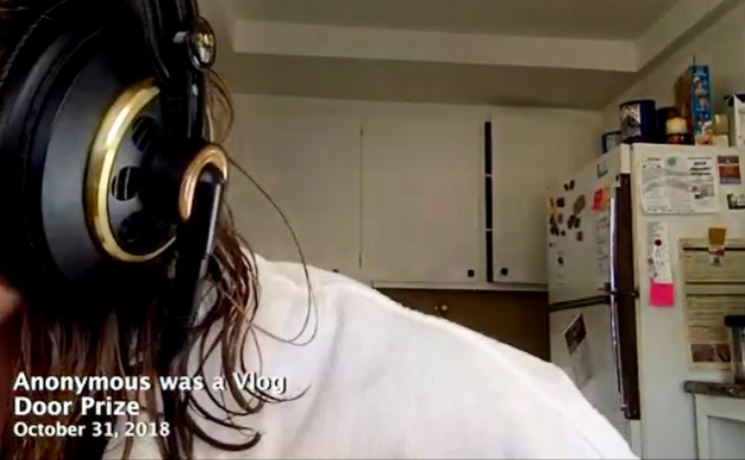 Exhibitions
ANONYMOUS WAS A VLOG, OUTDOOR SCREENING EVENT
Mary Addison Hackett
To mark the closing of her solo exhibition, Anonymous was a Vlog and to celebrate Women's History Month, UL will be hosting an outdoor screening of Mary Addison Hackett's 45 min video in the courtyard of The Packing Plant, which features her newest flag work, Was told to Lighten Up, Life is Short I'm Happy Being INTENSE designed especially for the AIR_(space) Project at UL.
Please join us Thursday, March 31st from 7-8pm
DIY / BYOE: UL will have complementary drinks, snacks, chairs, and blankets… while they last.
Anonymous was a Vlog will also be available to watch all day online March 31st! Visit our website for more details and a link to view!
About the Exhibition: The series title is in reference to a quote by Virginia Wolf in her essay, A Room of One's Own: "For most of history, Anonymous was a woman." This exhibition features a series of Vlog episodes Hackett made while living in the desert in 2016.
This episodic performance project was inspired by the history of the female pioneer and the modern-day homesteader. These short vignettes are constructed around the everywoman persona of a woman artist at mid-life, who, through a cam-girl dialogue of fast-paced jump cuts, discusses situations, personal and universal, while creating a life in the Mojave Desert. The project was first screened in the open desert, inside a DIY screening hut created out of found materials.
About the Artist: Mary Addison Hackett has an autobiographical practice documenting the banalities of everyday life. Within these banalities are issues of gender, memory, family history, and place.