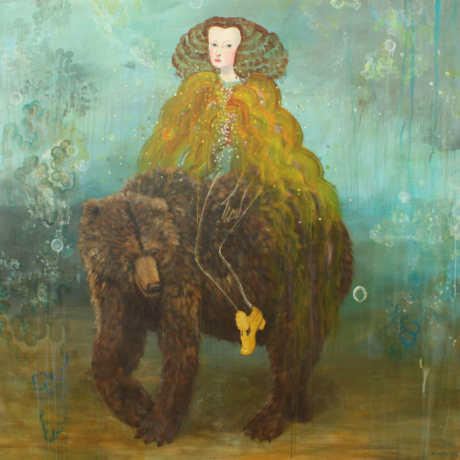 Exhibitions
ANNE SIEMS: INQUIRY
Anne Siems
In mid-November, David Lusk Gallery Nashville presents a new exhibition of paintings by Anne Siems titled Inquiry.
Siems, who lives in Seattle but is German by birth and education, has for many years placed her youthful ghostly figures and woodland friends in a serene melding of European forests and early American landscapes. In her new paintings, the landscapes are more ethereal and the clothes are no longer the primary point of interest. Instead, her characters – rendered in a manner akin to 19th century portraiture – ride woolly beasts and animals reminiscent of fairy tales.
Markhor Goat features a young girl on the back of a large horned beast scene ambling through an airy blue-grey abyss. The girl, dressed in a transparent leotard with a ruffled collar and red boots, and the goat become one figure in this painting. The goat carries the girl while she delicately embraces him as they travel through an ambiguous setting.
Of her work Siems says, "I have shifted to an emphasis on pattern, color, brushstroke, and mark making. Moving into an ongoing exploration of my personal experiences through more abstract means of expression."
Siems received her MFA from Hochschule der Kunste in Berlin, Germany in 1991. Her work in public collections includes American Airlines, Boise Art Museum, Kemper Museum for Contemporary Art, and Nordstrom Corporation Stores. She exhibits frequently across the US.