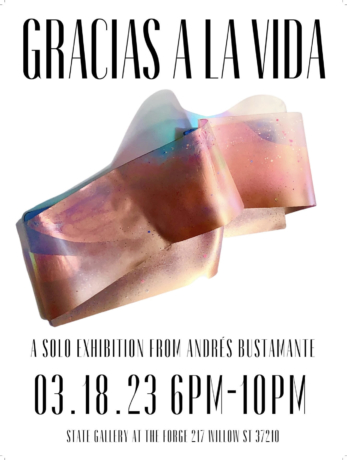 Exhibitions
ANDRÉS BUSTAMANTE: GRACIAS A LA VIDA
Andrés Bustamante
This March, STATE Gallery + Studios at The Forge Nashville is proud to present Andrés Bustamante: Gracias A La Vida. The exhibition will open on Saturday, March 18th with a public reception from 6pm to 9pm, and run through April 11th. Gallery hours are Monday through Friday 10am-6pm, or by appointment with the Artistic Director.
Andrés Bustamante is a sculptor, activist and multimedia artist living in Nashville. A political refugee who immigrated to the U.S. in his youth, Andrés is passionate about the therapeutic nature of art; to this effect, his large-scale acrylic and plexiglass sculptures exemplify the process of an individual wrestling difficulty into beauty.
Gracias A La Vida is a continuation of Andrés' transformative themes. It is an homage to the beauty of life in all stages; a letter of gratitude to all of its peaks and valleys. To Andrés, there is just as much worth to be found within hardship as in joy, and ultimately, each state carries an infinite potential for expression. Through his collection of works, we see the arc of darkness into light - a demonstration of art's ability to redeem and regenerate the human spirit.
The sentiments of Gracias A La Vida is echoed in a song of the same name, from which Andrés drew initial inspiration, and in which Mercedes Sosa sings:
Thanks to life, which has given me so much.
It gave me laughter and it gave me longing.
With them I distinguish happiness and pain—
The two materials from which my songs are formed,
And your song, as well, which is the same song.
And everyone's song, which is my very song.