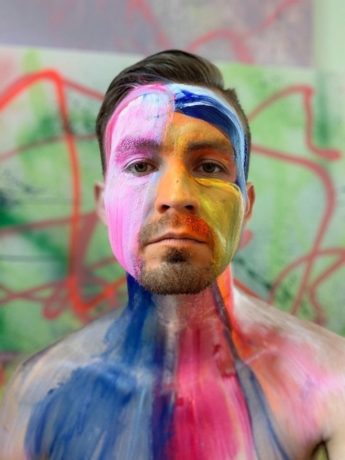 Exhibitions
ANDRÉS BUSTAMANTE: BIRTH DEATH REBIRTH
Andrés Bustamante
Birth.Death.Rebirth.
Have you ever experienced feeling so alive, yet, unafraid to die?
Birth.Death.Rebirth. recalls the memory of a Fall afternoon in 2017 where an outer body experience saved the artist's life. This heavenly encounter is the essence of abstract emotion intended for this art exhibit. Bright neon, glow in the dark, reflective materials under blacklights; An audio-visual experimentation of shape, material, color, and perspective which dares to question...where does the tangible end and ethereal begin?
---
Andrés Bustamante @andresbustm is a multi-disciplinary artist born in Cali, Colombia based in Nashville, TN. The artist attended Watkins College of Art followed by a self-taught experimental practice. Curiosity leads his creative process through various mediums, creating abstraction as a reflection of his spiritual journey in a physical body; a never ending exploration of the emotional state of this human experience.
Bustamante is passionate about creativity and community empowerment, pursuing this via arts organization, Persona Contemporary @personacontemporary, with a vision to empower diversity and inclusion in the visual arts community.