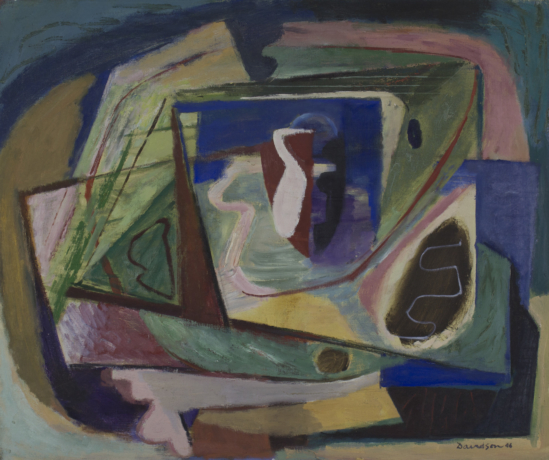 Exhibitions
AMERICAN MODERNISM AT MID-CENTURY: THE WORK OF MORRIS DAVIDSON
Morris Davidson
Morris Davidson (1898–1979) was an abstract painter, teacher, and writer with expansive interests that covered a wide range of approaches, and indeed a tenacious commitment to, abstract painting. On the tension between making money through portraiture and the pursuit of more "serious" painting, the artist wrote in the 1930s, "I had to get back to Cubistic and semi-abstract works, but when my bell rang I could quickly put such painting in the extra room so that a portrait possibility would not be frightened off by the strange images of my experimental painting." Seeking a resolution to this tension in later years, Davidson turned to teaching and writing for regular income. The freedom this allowed for his experiments in abstraction, creating works with greater attention to form, line, and color than subject, shows increasingly in his paintings of the following decades.
Always rooted in New York City, Davidson worked in a number of the hubs for artists of his era, from Asheville, North Carolina, to Rockport, Massachusetts on Cape Ann, and eventually to Provincetown, Massachusetts, a prominent Cape Cod art colony that attracted many noteworthy modernist painters. Davidson held leading roles in prominent arts organizations including the Federation of Modern Painters and Sculptors and the American Artists' Congress. He was socially and artistically well-connected and exhibited his work widely. By 1960, the artist had had twenty one-man shows in New York City, Philadelphia, Baltimore, San Diego, and Los Angeles, in addition to group exhibitions including the first Whitney Biennial in 1933.
AMERICAN MODERNISM AT MID-CENTURY: THE WORK OF MORRIS DAVIDSON is the fourth in a partnership between the Department of History of Art and the Fine Arts Gallery resulting in a student-curated exhibition. This year, Professor Kevin D. Murphy, Andrew W. Mellon Chair in the Humanities and Chair of the Department of History of Art, taught Exhibiting Historical Art — 20th Century Abstraction. The exhibition is curated by Aiden Layer '19, Nancy Lin '18, Ryan Logie '17, Cecilia March '18, Kittredge Shamamian '17, Elliot Taillon '17, and Nina Vaswani '17. Support has been provided by the vice provost for academic and strategic affairs, the College of Arts and Science, the Department of History of Art, the Andrew W. Mellon Chair in the Humanities, the Ewers Gift for Fine Art, and the Rosenfeld/Davidson Family Collection.