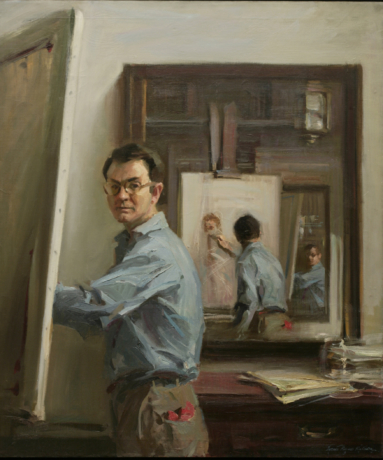 Exhibitions
AMERICA CREATIVE: PORTRAITS BY EVERETT RAYMOND KINSTLER
Everett Raymond Kinstler
Everett Raymond Kinstler, now 91 years old, is America's foremost portrait painter. In his career, he has rendered portraits of more than 2,000 individuals—leaders in almost every professional field, including eight United States presidents. America Creative explores how the eye of an artist sees kindred souls whose life's work is also in the arts, whether visual, musical, performing, or literary. Kinstler's vibrant, impressionist style imbues an otherwise static medium with the energy and vitality of his sitters, enlivening their personalities for us today and telling the stories of their lives.
Spanning the years from 1952 through 2015, these portraits cover the long career of a successful artist who has truly honed his craft. They also capture a generation of creative leaders in this country. Thanks to loans from the artist and from several institutions, including the National Portrait Gallery and the National Academy Museum, the exhibition features portraits of visual artists such as Norman Rockwell and Alexander Calder, actors such as Katharine Hepburn and Christopher Plummer, musicians and entertainers including Tony Bennett and Marian Anderson, and authors such as Tom Wolfe and Dr. Seuss.
It comes as no surprise that Kinstler is an excellent storyteller with his paintbrush as well as his voice, and the gallery is delighted to host the artist for a demonstration and lecture during the opening weekend, on March 24, 2018, at 3 p.m.
America Creative: Portraits by Everett Raymond Kinstler is the third in a three-part series on portraiture organized by the Vanderbilt University Fine Arts Gallery. The exhibition is curated by Joseph S. Mella, director, and Margaret F. M. Walker, assistant curator, with special thanks to the artist, Peggy Kinstler, and Michael Shane Neal.