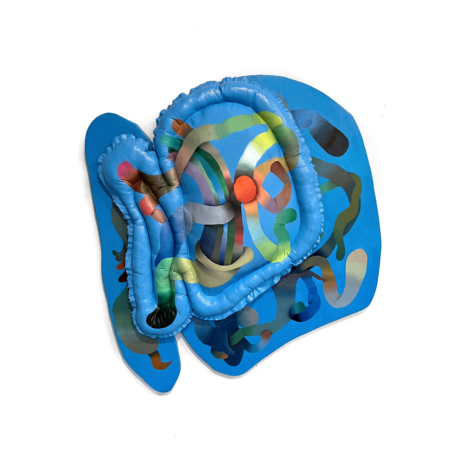 Exhibitions
AMELIA BRIGGS + CALLI MOORE: ALTERNATIVE MEDICINE
Amelia Briggs, Calli Moore
Alternative Medicine is a survey of two female painters, Amelia Briggs (Nashville) and Calli Moore (Brooklyn), both whose work cultivate a reflection on the viewers sense of spirituality, nostalgia, and humor.
Amelia's playful and color-drenched, stuffed wall sculptures are sewn and painted on 3D surfaces. Nodding to psychedelic flotation devices who carry us through the play of childhood/imagination, their forms symbolize organs and other natural phenomenon such as fungi.
Calli's luscious paintings seem to sparkle with rich flora compositions and speak to the spirituality of the natural world, giving an aura of the divine. Found within her paintings are pigments of healing crystal mixed in acrylic concoctions.
-Curatorial Statement by Ashley Layendecker
---
Calli Moore is an American painter currently residing in Brooklyn, NY. Moore was born and raised in Iowa. Moore received her BFA from the University of Iowa in 2014 and her MFA from American University, Washington D.C. in 2016. Moore has exhibited work with notable galleries such as Library Street Collective, Deanna Evans Projects, Harper's, and Deli Grocery.
Amelia Briggs is a multidisciplinary artist based in Nashville, TN. Her work has been exhibited internationally and throughout the US including exhibitions in Paris, France; Florence, Italy and London, UK. Her work has been supported by numerous publications and platforms including ArtMaze Magazine, New American Paintings, Exhibition A, Young Space, Numeroventi, Sight Unseen, Burnaway, and Hyperallergic among others. In early 2022 Briggs completed residencies at Wassaic Project and Monson Arts. Her work continues to be collected internationally and she is included in private and publications in South Korea, France, Australia, UK, Sweden, Canada and thought the US.